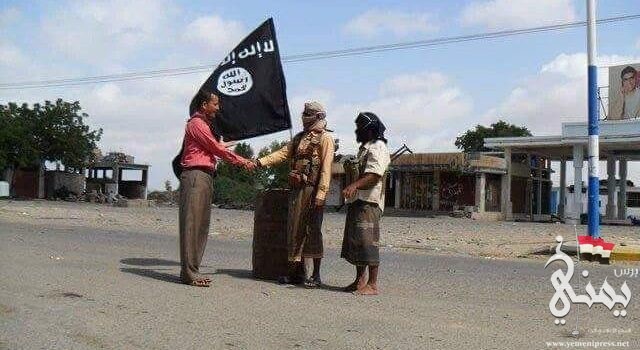 In picture: the U.S backed ,Saudi-led coalition behind al-Qaeda, Daesh in southern Yemen
YemenExtra
Y.A
"YemenExtra" obtained a photo of one of the media leaders ,close to the fugitive former president, Hadi, ,explaining the truth of the relationship between the so-called "legitimacy" and al-Qaeda and Daesh in the southern provinces.



The photo showed the so-called Anis Mansour, editor of the site "Here Aden", with elements of Takfiri elements, during visits of the eid of security points ,belonging to what is called by "al-Qaeda and Daesh," in the province of Abyan,southern Yemen.

The picture revealed the reality of the relationship between the "legitimacy" and the takfir groups of the so-called "al-Qaeda and Daesh", which are now very widespread in the southern provinces and control large areas in them under the forces of the U.S backed ,Saudi-led coalition.

An investigation by Associated Press found that the coalition waging a war on Yemen has secured secret deals with al-Qaeda terrorists in the violence-wracked country, recruiting hundreds of its militants in the ground operations against the Houthi Ansarullah movement , part of the Yemeni army forces.
The southern areas controlled by the coalition forces are witnessing chaos, insecurity and the spread of the Takfiri groups with expansion of their activity. Besides the increasing of assassinations, bombings and clashes between militants fighting for influence among them.