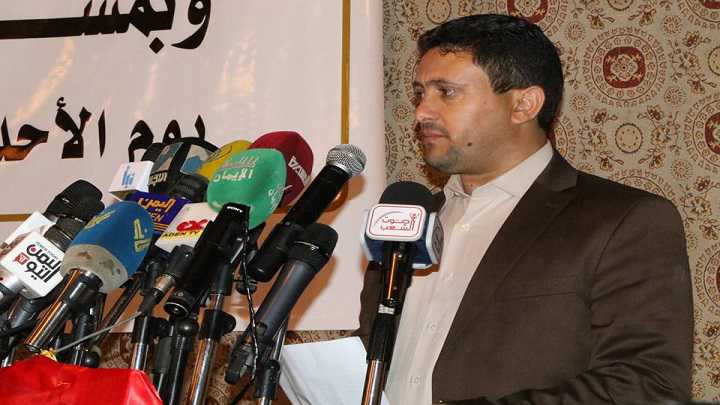 US-Saudi Airstrikes Target War Prisoners in Dhamar, Over 100 Casualties Expected
YemenExtra
M.A.
Head of National Committee for Prisoners Affairs Abdulqader Al-Mortadha said early Sunday that the US-Saudi aerial aggression targeted a prison, where prisoners of war were being kept in Dhamar province.
"The targeted prison housed over 170 prisoners of war, most of whom were supposed to be part of a local exchange deal," Al-Mortadha noted.
"The fate of targeted war prisoners is not clear and rescue teams were unable to reach the targeted place because of the intensified and continued shelling," he added.
Later on, a local source reported that over 40 dead victims have recovered and 30 others sent to hospitals.
He said that the remains of the victims fill the scene of the crime and are being collected for identification.
Al-Mortadha has confirmed that the targeted prison is known to the aggression's leadership and the International Committee of the Red Cross, whereas the latter visited it several times.
He held the forces of aggression, led by the Saudi and Emirati regimes, fully responsible for targeting the prison and the aftermath.
Moreover, the Head of the National Committee for Prisoners Affairs called on international and local organizations to condemn this horrific crime and to visit and inspect the targeted prison.
In the same context, Ministry of Public Health and Population announced on Sunday that the victims of the US-Saudi fresh crime, that targeted prisoners in Dhamar province, has risen to 60 dead and 50 injured in a death toll that is not final.
The spokesman of the ministry, Dr. Yousef Al-Hadhri, said in a telephone interview with Al-Masirah TV that the Saudi-led coalition targeted, using seven raids, three buildings in Dhamar, where 185 mercenary prisoners captured from different fronts were being kept.
Al-Hadhri said that 60 bodies have recovered so far and the death toll is likely to rise above 100, as large numbers of victims are still under the rubble. He pointed out that 50 wounded were sent to hospitals in the province.
The spokesman of the Ministry of Health called on organizations working in the humanitarian aspect to have a responsible stance towards these crimes committed by the Saudi-led coalition.
He noted that the Red Cross has promised the Ministry of Health to go to the crime scene, issue a statement and provide medical assistance.
Early Sunday, the Saudi-led coalition launched seven raids on a building used for war prisoners north of Dhamar province.