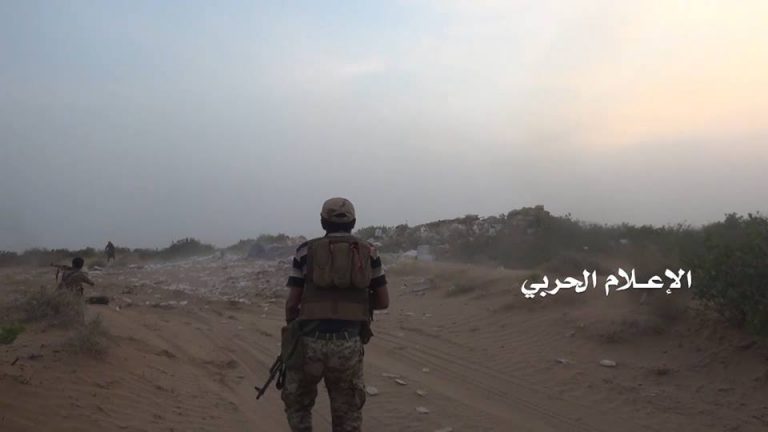 Yemeni Media's Photos Documnting Saudi-Led Coalition Losses in Midi
YemenExtra
Y.A
In response to the Saudi-led coalition ongoing air strikes that claimed the lives of  more than 12000 people,mostly civilians, the Yemeni war media distributed specific scenes of the clearing of a number of sites north of the village of Al-Khazan and sites north of the Midi Desert.
The scenes showed the that the Yemeni joint forces when they restored AL-Makhazen area after two days of securing the perimeter of Midi strategic castle and going deep in for ​​3 kilometers.

Large quantities of weapons and ammunition left by Sudanese soldiers and pro-Saudi gunmen have been seized by the Yemeni joint forces.

A military source reported two days ago that large-scale clearing operations were carried out by the Yemeni joint forces which enabled them to retake a number of sites that had fallen at the hands of the Sudanese army and paid fighters.
The operations resulted in the death and wounding of hundreds of forces of coalition and paid fighters admitted by units of the coalition.

Media sources reported two days ago that the "Brigades of the Hussein" belonging to the Yemeni joint forces fought and sucesseded in the Midi desert in a record time, whereas they  retook a number of sites and advanced several kilometers.