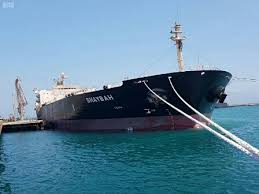 Oil Company: US-Saudi Aggression Detaining Vessels of Oil Derivatives with Permits from United Nations
YemenExtra
M.A.
The Yemeni Oil Company reported that six ships loaded with oil derivatives are still held at the side of the US-Saudi aggression in the sea, a few miles from Hodeidah port.
The company said in a statement said that "the six vessels detained by the alliance of aggression in front of the port of Hodeidah have official permits from the United Nations," asserting that "the continued detention of oil derivatives vessels for long periods lead to the imposition of fines for a significant delay and therefore higher costs."
The Yemeni Oil Company explained that the forces of aggression deliberately in the recent escalation of its arbitrary measures to prevent the entry of oil derivatives vessels to Hodeidah port, especially gasoline. "The company has been able to stabilize the supply and price during the last few months, despite the unjust siege," the Yemeni Oil Company said.
The Oil Company urged citizens to cooperate planning their upcoming programs and responsibly and rationalization their consumption. The Company has vowed to crack down on all those who beg to manipulate the needs of citizens for graft or to destabilize the market.
The Oil Company called on the United Nations, the international community and all human rights organizations to carry out their legal and moral responsibilities towards the besieged Yemeni people. The Company held the forces of aggression and its mercenaries all the disastrous effects.
This post originally ran on Almasirah English