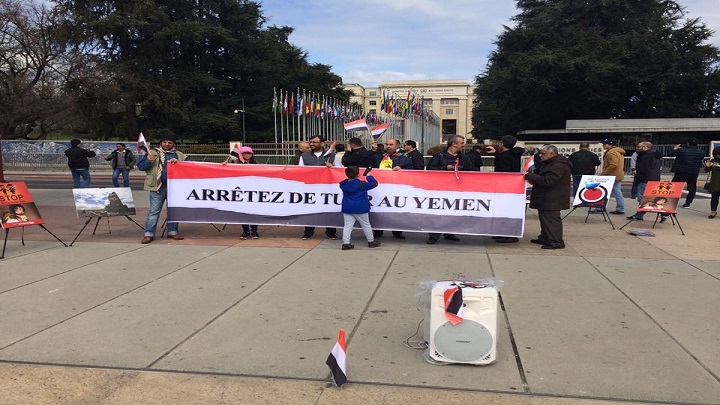 A Vigil for Yemeni People in Front of UN in Geneva
YemenExtra
M.A.
A number of Yemeni, Arab and foreign activists held on Sunday a photo exhibition and a vigil in solidarity with the Yemeni people. The vigil took place in front of the United Nations headquarters in Geneva, on the occasion of two years of steadfastness against the war of the US-backed Saudi coalition.
The vigil coincided with another demonstration witnessed by the British capital, London, which was organized by a number of international organizations in solidarity with the Yemeni people on the anniversary of two years of war on Yemen.
The demonstrations take place within the framework of an advocacy campaign in a number of international capitals aimed at supporting the besieged Yemeni people and strengthening the role of the United Nations and the Security Council, as well as holding them responsible for Yemen's war, genocide, and land, air and sea blockade for two years. That led to the Yemeni people being subjected to terrorism, destruction and murder.