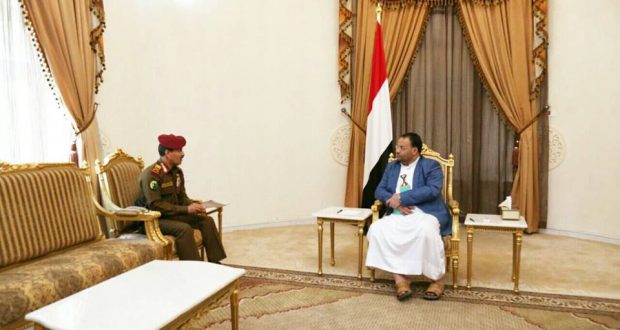 President al-Sammad meets Defense Minister
YemenExtra
SH.A.
President Saleh al-Sammad, head of the Supreme Political Council, met on Saturday with Defense Minister Major General Mohammad Nasser Al-Atefi.
In the meeting, they discussed the developments on the various fronts taken to strengthen and activate the ministry's plans and programs in dealing with the current changes which are taking place in the light of the aggression escalations.
The meeting also dealt with the progress of the training and rehabilitation of the military and the popular committees, and the required technical and personnel needs that aim at enhancing the activities of the training programs to meet the military developments in the ground.
President al-Sammad stressed that army and the popular committees individuals are keen to bear the entire responsibility in defending Yemen to translate the hope of the Yemeni people desire in defending the nation's sole, security, stability, sovereignty, freedom and dignity of the Yemeni people.
He pointed out that what Yemen is witnessing requires all the army and the popular committees individuals in the fronts to be in entire vigilance. He also praised the great victories achieved by the heroes of the army and the popular committees, as well as the achievements of the military industry, research and missile and air forces defense units.
According to Saba.net