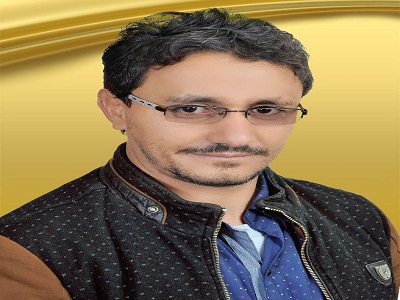 A View from the Rubble of Sana'a: What Happens When an Airstrike Hits Your Street
Ahmed AbdulKareem 
a Yemeni journalist. He covers the war in Yemen for MintPress News, YemenExtra and local Yemeni media
SANA'A, YEMEN — The late morning sun conspired with a cloudless blue sky to frame the Al Tahir commercial district here in a shimmering champagne glow. With the noon hour approaching, swatches of life unfurl like images in a Diego Rivera mural: Al Qasr Street begins to swell with cars, courier trucks and bicycles, while pedestrians trickle into the appliance stores,  cafes and pharmacies that sit in the shadow of the presidential palace
A motorist, Ibrahim Abdulkareem, heads to the hospital where his wife — badly injured in a Saudi airstrike that destroyed his home and killed his two-year-old son — is scheduled for yet another surgery. A 13-year-old boy with a mop of thick black hair, Amin Al Wazi, sits listless and cross-legged against a wall, hoping to earn a few bucks by offering the use of his digital blue bathroom scale for a small donation. The child has been a fixture on the street for months, since his family arrived in this capital city after fleeing the Saudi aerial attacks in western Yemen
Suddenly, a plane's loud whirring pierces Al Tahir's preoccupied hum, followed by a deafening explosion, and then another, a few minutes later. When finally the thick black smoke begins to dissipate, Abdulkareem climbs from his car to discover that the orderly streetscape has been transformed into a hellish scene, like some overwrought imagining of Dante: roughly five football fields of thick, choking dust, smoldering shops, mangled metal, and charred corpses buried under mountains of rubble. Anguished moans and screams fill the air like an aria of grief and pain
"Do not gather," warn the paramedics rushing to the scene to warn against the Saudi tactic of "double-tapping," intended to inflict maximum damage. "The Saudi airplanes will come back
Abdulkareem ignores their admonition and climbs from his car, rushing to help.
"Do not worry, you will be fine!" he assures the first casualty he stumbles upon, an elderly man sitting in a heap of twisted metal and shattered glass. His legs have been shorn off in the blast, and Abdulkareem hopes that his lie will provide the dying man with some comfort in his final moment. He helps rescue workers load the body into an ambulance where the man draws his last breath
Across the street, men pull Al Wazi's lifeless body from a pile of rubble. "It is him," shouts a shopkeeper, his face covered with soot and dust. "It is the boy of the digital scale; he is dead
The boy and his weigh scale were fixtures on Al Qasr Street since he and his family moved here months ago from western Yemen after an airstrike at a Yemen wedding party left more than 85 civilians dead, including his father
Come rain or shine, the cold of winter or the searing heat of a Yemen summer, he was there at first light to eke out something resembling a living for himself and his family. The nearby shopkeepers erupt in anger at the discovery of his body, and curse the Saudis who accuse Houthi rebels of being proxies of their historic rival, Iran
"He was no Iranian expert," cries out Ali Ahmed, the owner of a nearby restaurant, as he scrambles past capsized plastic white tables and splintered blue tiles. "He is a young boy; he was no Houthi leader. Are we carrying a missile ballistic platform? Are the civilians from the Iranian Revolutionary Guards or Hezbollah
Predictable death by air and sea
Since this war began in 2015, Saudi airstrikes in this tiny nation on the Red Sea have become almost as predictable as the tide. And, combined with a suffocating blockade of Yemen's ports, children here are more likely to die before their 18th birthday than anywhere else in the world. In November 2017, Save the Children estimated that as many as 130 children were dying every day in Yemen, and more than 50,000 children died over the calendar year.
In December 2016, UNICEF reported that a child dies every 10 minutes from preventable diseases such as diarrhea, malnutrition and respiratory tract infections. And the U.K.-based NGO Disasters and Emergencies Committee's recent report put the number of preventable deaths at 10,000
That, Yemenis say, is not a coincidence. Ignored by the Western media and unseen by the rest of the world, the Saudis abide by few rules of war, in their attempt to ethnically cleanse this nation of 27 million people, and clear a path for Western powers to seize control of its mineral resources and its ports that are a gateway to the Arab world, Europe and Asia
Speaking at a news conference in the Geneva, Ravina Shamdasani, a spokeswoman for the UN High Commissioner for Human Rights said that April has been the deadliest month this year so far with a sharp increase in civilian casualties in Yemen
Increasingly, the UN asserts, the attacks are in densely populated areas, such as the one here in Sana'a targeting the presidential palace. The Saudi airstrikes also raise questions about whether the Saudis are adhering to the legal principle of proportional response so often violated by Israel's use of sophisticated drones and other weaponry to retaliate against Palestinians for launching World War I-era rockets, many of which land harmlessly
The airstrike here that killed Amin Al Wazi left another nine civilians dead and 82 more injured, but it was fairly unremarkable for all but those who lived through it
Bombers see a puff of smoke, a father sees the bloodied corpse of his child
Ibrahim has seen worse. In 2015, he lost his infant daughter in an airstrike, the same one that left his wife badly injured and in need of surgery on the day of the airstrikes on the presidential palace
The night of that airstrike, Ibrahim, an engineer, told MintPress he awoke to the sound of his wife screaming. She was pinned under the rubble of their collapsed walls. His two-year-old daughter was completely buried under plaster and stone. Ibrahim told MintPress it took hours to dig out first his wife, and then his daughter from the rubble, and remove the shrapnel from the girl's tiny body
Said Ibrahim
I did not give up; her blood was dripping on my clothes as I ran to (the) hospital hoping to see her smile again. Doctors were trying to bring her back to life but it was too late. I fainted to the floor."
Top Photo | People inspect the rubble of homes destroyed by Saudi airstrikes in Sanaa, Yemen, Aug. 25, 2017. (AP/Hani Mohammed)