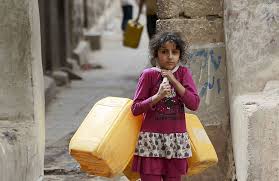 UN Child Rights Committee: Saudi Raids Targeting Children in Yemen
YemenExtra
SH.A.
The United Nations Committee on the Rights of the Child called on Saudi Arabia to respect international humanitarian law and international human rights law after airstrikes by the Saudi-led coalition in Yemen on 9, 22 and 23 August 2018. The attack in Dahyan, Sa'ada province in the north of the country, and three separate airstrikes last Wednesday and Thursday in the Hodeidah governorate, in western Yemen, killed at least 67 children and injured scores of others, according to UN sources.
"States parties to the Convention on the Rights of the Child, which includes Saudi Arabia, have an obligation to prevent violations of international human rights law. They must also respect rules of international humanitarian law applicable to children in armed conflict and take all feasible measures to ensure protection and care of children who are affected by an armed conflict," Chair of the Child Rights Committee, Renate Winter, said in a statement.
Recalling the demand for an international, independent investigative body to examine allegations of violations of international humanitarian and international human rights law in Yemen further cited in the Committee's concluding observations, Winter emphasized the need to ensure full accountability and encouraged Saudi Arabia to fully cooperate with the Group of Eminent Experts on Yemen.
"It is necessary to allow for a thorough, impartial and credible investigation into this and other attacks on civilians and civilian infrastructure, including educational and health facilities, and bring perpetrators to justice," she said.
On the other hand, the Saudi coalition accused the United Nations officials to respond to the pressure of Ansar Allah movement on the coalition strikes caused the killing of civilians.
On August 10, the UN Security Council called for a "credible and transparent investigation" of the massacre committed by Saudi coalition fighters against children in Sa'ada, northern Yemen.
A Confidential UN report accused Saudi coalition of killing hundreds of Yemeni kids, and the Foreign Policy magazine revealed that a senior adviser to the United Nations recommend coalition should be put on the black list of countries that kill and maim children in war.
Source: Al-Mayadeen