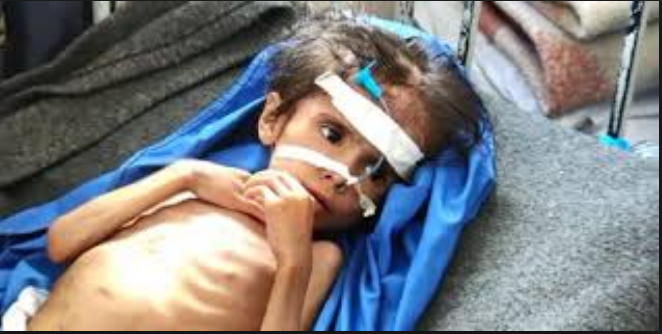 Paramount Need for Demand Medical Air Bridge into Yemen
YemenExtra
SH.A.
Quoted from Al-Masirah website, the Ministry of Health and Transport at a joint press conference, on Tuesday, called for an urgent transporting of medicines into Yemen and allowing the wounded and sick children to travel abroad. The two ministries also stressed the importance and urgency of opening Sana'a Int. Airport. This step is needed to save the lives of thousands, especially children.
The Minister of Public Health and Population, Dr. Taha al-Mutawakil, called on the United Nations and the Security Council to stop the US-Saudi aggression, lift the siege and send needed medicine and supplies for children, the wounded and the sick. The international community should demand the lift of the siege on transporting those who can not be treated internally.
Al-Mutawakil called for a press conference held at Al-Thawra General Hospital to open Sana'a Int Airport to enable the survivors of the direct bombing of the US-Saudi aggression of children and women to obtain their right to travel abroad and receive treatment. He stressed that the children of Yemen for a 1250 days are killed by raids of the coalition jets, led by the US and Saudi Arabia, the last of the massacres of the Dahyan market in Sa'ada and the displaced in Durahmi district in Hodeidah. These two raids killed 83 people, including 60 children and five women and wounded more than 80 are still suffering because of the deterioration of the health system in Yemen and not being transferred abroad for treatment because of the closure of the Sana'a International Airport.
Despite the international condemnation of these crimes and the demand for an impartial and transparent investigation, the Security Council did not respond and entrusted the investigation to the perpetrator.
In turn, Minister of Transport, Zakaria Al-Shami, said that the closure of Sanaa International Airport deprived more than two million people in need of travel abroad for treatment, especially difficult cases, noting that it benefits more than 80 percent of the population of the Republic of Yemen from all segments of society. He held the United Nations and humanitarian organizations fully responsible for the crimes and massacres committed against humanity by the children of Yemen.