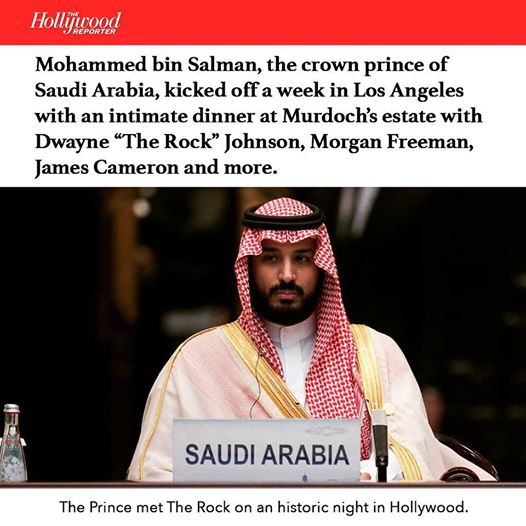 Film star promises to take alcohol to Crown Prince in Saudi Arabia
YemenExtra
Y.A
Saudi Crown Prince Mohammad Bin Salman met with Hollywood actors and producers for an intimate dinner earlier last week, during which alcohol was served, according to a now edited post on social media by film star Dwayne "The Rock" Johnson.
Bin Salman attended the event on Monday evening, along with media mogul Rupert Murdoch, Warner Bros CEO Kevin Tsujihara, National Geographic CEO Courtney Monroe, film producer and director James Cameron, and actors Morgan Freeman and Johnson. Other prominent figures from the entertainment industry were also present.
A revealing Instagram post by Johnson seemed to suggest that the Crown Prince had also been served alcohol during the course of the evening. The actor joked that he would "be sure to bring my finest tequila to share with his [sic] Royal Highness and family" on a trip to Saudi Arabia.
On Instagram, Johnson's post has been edited, removing the insinuation about sharing alcohol with the Prince's family. However, the original post still remains visible on his Facebook.
This has led to raised eyebrows, given that alcohol is strictly prohibited in Saudi Arabia and its possession is punishable by hundreds of lashes.
Source: Websites