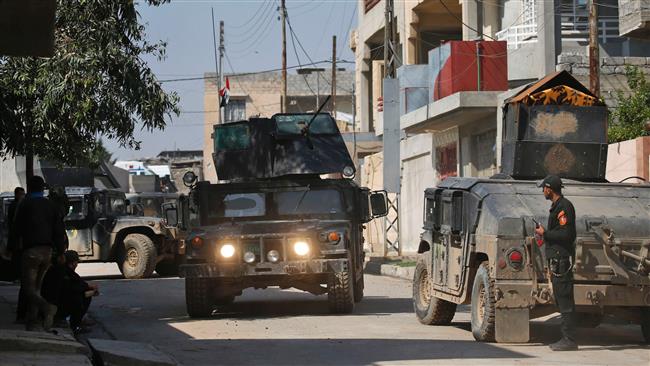 Iraqi Army Forces Regain several Areas in, around Mosul
YemenExtra
Y.A
Iraqi government forces, backed by allied fighters from the Popular Mobilization Units, have freed  more areas in and around Mosul when  they are involved  in huge  operations to drive the Daesh Takfiri terrorists out of the strategic northern city.
The commander of Nineveh Liberation Operation, Lieutenant General Abdul Amir Yarallah, said on Thursday that soldiers from the 9th Armored Division had wrested control over Sabouniya village and its train station west of Badush region, reported Arabic-language al-Sumaria television network.
Yarallah declared  that Iraqi troopers had volatile  the national flag over a number of buildings in the area, after causing  heavy losses on Daesh ranks and destroying their military hardware.
Iraq's Joint Operations Command (JOC) also stated  in a statement that federal police forces and members of the Counter-Terrorism Service (CTS) had retaken  Qazibban neighborhood in western Mosul.
Daesh missile  attack kills 7 in eastern Mosul market
At least seven civilians killed  on Thursday as  Daesh terrorists waged  a missile  attack in Mosul.
Colonel Khaled al-Jawari of Nineveh Police Command said the extremists had waged  three Katyusha missiles  at an outdoor market in the densely-populated al-Zohour neighborhood of eastern Mosul, killing  five women and two children, Arabic-language Roayah news network reported.
Civilians who were injured during the ongoing battle between government forces and Daesh Takfiri terrorists in Mosul are treated by medics at a trauma field hospital in western Mosul on March 29, 2017. (Photo by AFP)
Jawari added a woman had also suffered from  injuries in the attack, noting that Iraqi forces had brought  the bodies and the wounded to medical centers in the area.
Separately, an athletic trainer and his wife were killed as  a Katyusha missile  landed on their home in Deka Barka neighborhood of central Mosul.
Daesh execute 23 civilians in Mosul
Meanwhile, Daesh extremists executed almost  two dozen people in central Mosul on Thursday for rejecting  to lift , and arrested a senior fellow commander on charges of treason.
Witnesses, speaking on condition of anonymity, said a Daesh firing troupe  shot dead the civilians in the Zanjili district, after the victims resisted pressure to abandon their homes and move to other districts, Roayah news network reported.
The killed  civilians were from Ras al-Jada and Malaab areas in western Mosul, according to witnesses.
This file photo shows members of the Daesh terrorist group in an undisclosed location in Iraq.
Moreover, Daesh terrorists arrested a  top  commander of the Farouq Brigades together with 20 fellow extremists in the city of Tal Afar, located 63 kilometers west of Mosul.
A local source, requesting anonymity, said those arrested had been accused of "violating  the pledge of allegiance" to Daesh leader Ibrahim al-Samarrai aka Abu Bakr al-Baghdadi.
Iraqi army soldiers and pro-movement fighters launched their offensive to regain  Mosul last October and since then they have made sweeping gains against the Takfiri elements.
Iraqi forces took control of eastern Mosul in January after 100 days of fighting, and launched the battle in the west on February 19.