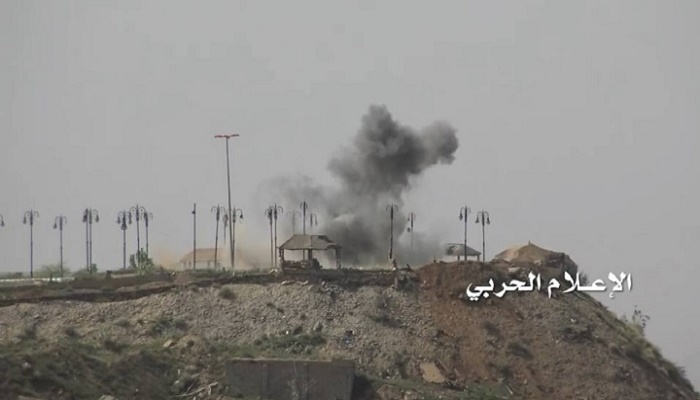 The Yemeni Joint Force have sniped dozens of Saudi- paid in Jizan and Najran
A.D
YemenExtra
The artillery in Yemeni Joint Force launched numbers of shells at groupings of Saudi – paid in Jizan , Najran, Asir and Taiz and Niham as well. 
The shells hits groupings of Saudi – paid at many sites in all the battlefronts of the border and in the provinces of Yemen.
The artillery targeted Al Masfg , AL Mtan , Al Dokan and Zabid sites by numbers of shells , and they killed dozens of Saudi soldiers  The targeted destroyed numbers of Saudi military vehicles in Jizan.
Moreover, in Jizan, Najran and Asir the Yemeni army targeted the sites by dozens of rockets and artillery shells, the hits killed at least 20 of Saudi soldiers and injured others. The forces of the army burning weapons store in Jizan, and destroyed dozens of military vehicles.
In addition, the units army killed at least 20 of Saudi soldiers by snipe operation in Jizan , Najran and Asir during ten days.
The sniper operations were carried out along the border fronts against the Saudi army in Jizan, Najran and Asir, where the sniper operations killed 27 Saudi soldiers in Jizan, 25 Saudi soldiers in Najran and seven Saudi soldiers in Asir during March.
In the battlefronts of Taiz and Al Jawf the Yemeni army launched rockets type of Zilzal 2 at gathering of mercenaries, and numbers of shells targeted many sites. In Taiz, Yemeni Joint Force launched katyusha rockets at several sites of mercenaries and killed large number of them. Moreover, the artillery army hits the Saudi _ paid at the sites on Taiz province, Saudi-paid escaped, leaving behind them huge weapons and ordnance.
In Niham and Marib, army missile targeted several sites, and launched katuysh rockets at gathering of mercenaries, the rockets killed at least 28 of them during one week and injured numbers of them.
These military operations function as a response to the constant war crimes committed by the US-backed Saudi coalition against Yemeni civilians since March 26 of 2015.