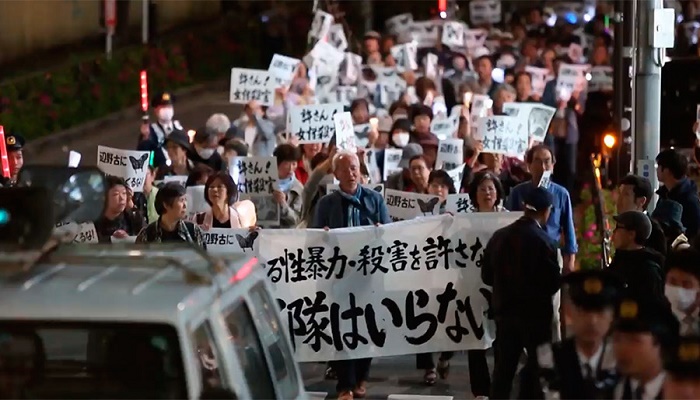 In the memory of women killed by a US marine, Japanese demonstrate against US
YemenExtra
Japanese took to the streets of Tokyo to pay tribute to the memory of a young Japanese woman killed by a US marine a year ago and to protest the relocation of the US base in Okinawa.
The demonstrators in Tokyo marched through the streets holding banners including ones reading, "No base in Okinawa!" The father of the murdered woman also issued a message calling for the removal of the US military bases from the island prefecture.
In the meantime, another rally was held in the Henoko district of the city of Nago located in the Okinawa prefecture. Some 3,000 people took part in that demonstration, according to the local
The protesters gathered in front of Camp Schwab, the US military base located in Henoko. The demonstration was attended by the Nago city mayor.
On April 28, 2016, the 20-year-old woman, Rina Shimabukuro, was raped and murdered by a 32-year-old civil contractor and former US Marine Kenneth Franklin Gadson, who goes by his Japanese wife's family name of Shinzato. He admitted that he had strangled and stabbed his victim
Okinawa hosts about 75 percent of all US military installations in Japan, and is an important geopolitical outpost for Washington allowing to project power in the region that neighbors China and Southeast Asia..