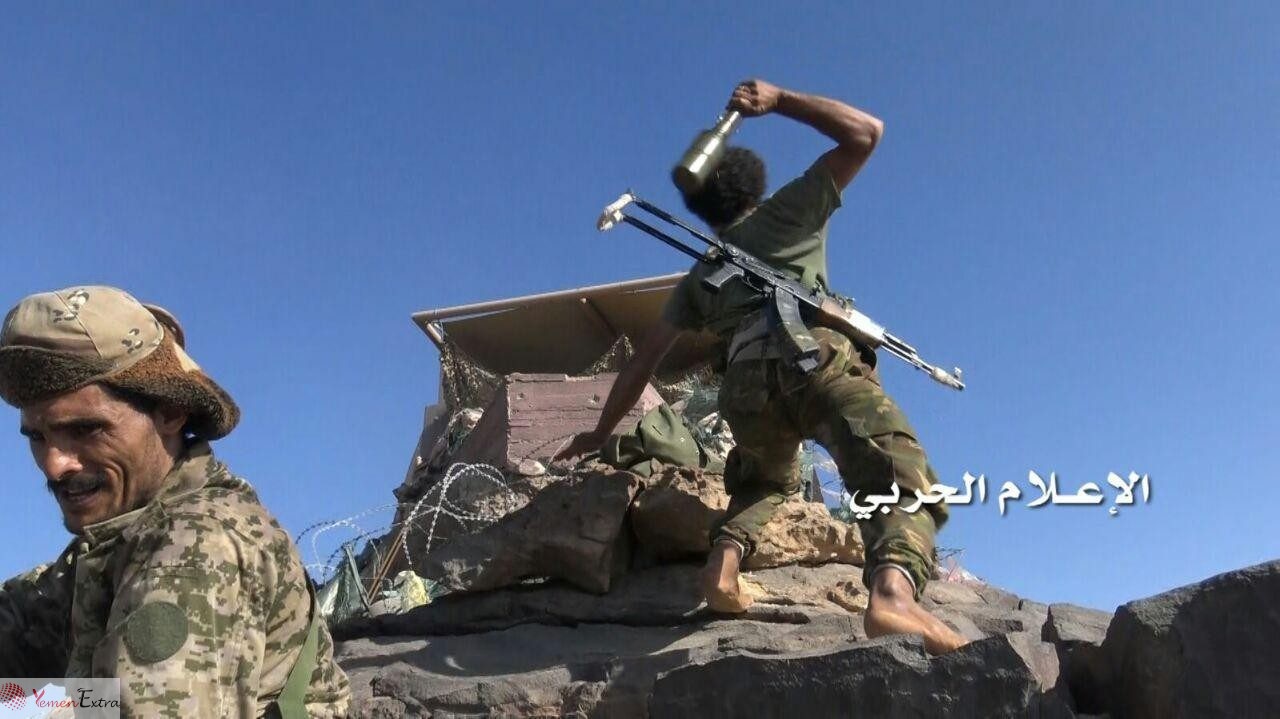 The Saudi –Led Coalition Is still Unable to Defeat the Yemeni Joint Forces
YemenExtra
Y.A
Yemeni Joint Force have made military operation in Jizan,Asir,and Najran against Saudi bases in retaliation for Saudi attack against civilian targets throughoutYemen.
According to security official, the Yemeni artillery targeted new fortifications of the Saudi soldiers and mechanism in AL-Kars site , in addition to fortifications in AL-Abadiad site and gatherings in AL-Dafiniah site .Dead and wounded amid the Yemeni joint forces due to a massive clearance operation aimed at AL-Montazah, AL-Shabakah sites and others in the Northern Khobah in Jizan.
Seven Saudi soldiers killed , including officers, and a mechanism destroyed as a result of raiding an updated site behind Alib leadership ,while a salvo of Katysha missiles fired at gatherings of Saudi soldiers in AL-Daiafah palace .Missile and artillery bombing, in addition, targeted a gathering of military mechanisms and gatherings of the Saudi army western Soqam site and an update site in AL-Sodais .The engineering unit destroyed a military mechanism opposite AL-Khadra as a result those on board killed ; furthermore, the Yemeni joint forces targeted snipers and machine-guns of the Saudi army western AL-Fawaz. Direct injuries as the missile bombing targeted gatherings of Saudi soldiers and their mechanisms in Rajlaa camp , as well as the missile force of the Yemeni joint forces aimed at gatherings of the Saudi army in the National Guard camp in Najran, it said.
Pushing towards Mandabah market, the Yemeni joint forces foiled the paid fighters advance and dead and wounded reported in their ranks and  many mechanisms destroyed; meanwhile, gatherings of Saudi soldiers targeted eastern AL-Rabuah city with a number of shelling . The Yemeni joint forces ,furthermore, carried out a sudden attack on the Saudi army in site behind Alib Batikhah Alib and burnt a military tank , causing them many dead , including an officer, in addition to targeting  Saudi military gatherings western AL-Rabuah and the governmental complex in Asir.
Over many military operations in AL-Jawf by both sides, a military operation targeted positions of the paid fighters in AL-Qail directorate , sustaining them losses in lives among their ranks, as well as Zelzal 1 aimed at the paid fighters gatherings in Mazwaih area in AL-Matoon .
The Yemeni joint forces targeted the paid fighters in AL-Jahmaliah , AL-Amdan  and AL-Sirateen hill in AL-Dobab and AL-Salw , killing three of them. A tank carrying Sudanese soldiers burnt in Yakhatal northern Mokha , in addition to targeting gatherings and fortifications of the paid fighters in AL-Jahmaliah area , resulting in dead and wounded among their ranks, it confirmed.
The war media reported shooting dead a paid fighter in the eastern hills of Kahboob n Lahj.
Al-Masirah channel said, quoting from Yemeni sources , that Zelzal 2 missile and Katysha missiles  fired on gatherings of the paid fighters in Melh valley in Nehim directrate as a result accurate injures reported.
In addition to the paid fighters who fell dead since the begging of the Yemeni joint forces response in Mareb ,four more of the paid fighters killed at the hands of the Yemeni joint forces in separate areas.
Notably, the head of the Sudanese troops killed due o targeting gatherings of Sudanese troops' gatherings in Midi desert sides by the flames of the Yemeni joint forces.
Scores dead and wounded and mechanisms damaged as the Yemeni joint forces responded to the Saudi led coalitions led results.