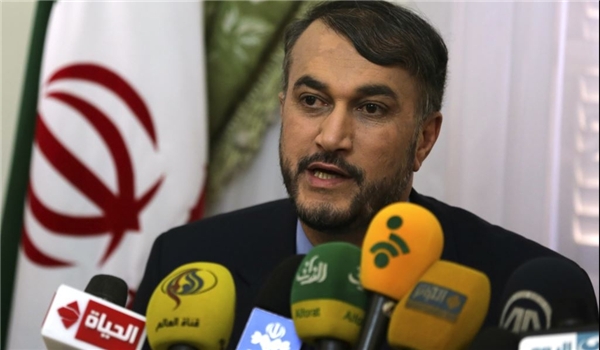 Abdollahian: Bandar Bin Sultan Directed 2013 Beirut Attack on Iranian Embassy
YemenExtra
Special adviser on international affairs to the Iranian Parliament speaker, Hossein Amir-Abdollahian, said Saudi Arabia is the "prime suspect" behind the recent terrorist attacks in Tehran.
"Now, Riyadh is the prime suspect in the Tehran terrorist incidents," Amir-Abdollahian said in a tweet Wednesday.
The Iranian official also said that former Saudi intelligence chief and long-time ambassador to Washington Bandar bin Sultan had "directed the November 2013 terrorist operation against the Iranian Embassy in Beirut."
More than two dozen people, including Iran's cultural attaché to Beirut, were killed and at least 150 others injured in that year when two explosions struck near the Iranian diplomatic premises in the south of the Lebanese capital.
Following the incident, the so-called Abdullah Azzam Brigades claimed responsibility for the bombings. The group's Saudi leader, Majid al-Majid, was arrested in early January 2014 and died days later from poor health in a Lebanese jail. Majid was a high-profile terrorist also wanted by the US and some other countries.
Last Wednesday, terrorists attacked the Iranian Parliament and the Mausoleum of the late founder of the Islamic Republic, Imam Khomeini, in the capital Tehran, killing as many as 17 people. The Takfiri terrorist group ISIL claimed responsibility for the attacks.
isil follows Wahhabism, an extremely intolerant and violent pseudo-ideology that is preached by government-sanctioned clerics in Saudi Arabia.
Riyadh has severed its diplomatic relations with Iran. The Tehran attacks came hot on the heels of especially adversarial comments and threats by high-ranking Saudi authorities.
Last month, Mohammed bin Salman said Saudi Arabia would work to move "the battle" to Iran. Also, on June 6, Saudi Foreign Minister Adel al-Jubeir said Iran had to be "punished" for what he called "its interference in the region." The Tehran attacks were conducted hours later.
On Tuesday, Iran's Foreign Minister Mohammad Javad Zarif referred to those remarks by the Saudi officials and called them a "direct threat and very dangerous provocation" by Riyadh. He also said Iran had obtained intelligence showing that Saudi Arabia was "actively" propping up terrorist groups along Iranian eastern and western borders.