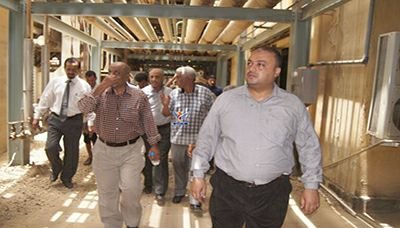 Deputy Prime Minister Inspects Maintenance Work at Ras Kotaib Electricity Power in Hodeidah
YemenExtra
Y.A
The Deputy Prime Minister of Economic Affairs, Dr. Hussein Mabouli, along with the Minister of Electricity and Energy, Eng. Lutf Jaramouzi, the Minster of Media ,Ahmed Hamed and the governor of Hodeidah, Hassan Ahmed Al-Haij inspected today the Ras Kataib power station, which is being maintained to be ready for work.
During their visit to the Central Station departments, Dr. Mabouli and the visitors were acquainted with the stages of work at the station and the percentage of completion of the maintenance work and the readiness to start the return of its operation and restore electricity to the province.
The Deputy Prime Minister praised the efforts of the engineers of the station to restart the station and their contribution in the follow-up of all sections of the station to prepare and re-enter the work .. pointing out that there are commercial ships coming to the port of iron carrying on board quantities of fuel to operate the station
.
He stressed that the aggression seeks various means to deprive the sons of Yemen in general and the sons of Hodeidah of all services, including electricity, by preventing the private diesel ship of operating electricity from entering the port of Hodeidah.
The Deputy Governor Abduljabbar Ahmed Mohammed and the Director General of Electricity Hodeidah Region, Jamie Salim Kaleb accompanied them in the visit.