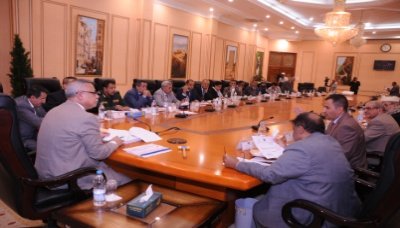 The Council of Ministers Expresses its Condemnation of the Closure of Al Aqsa Mosque by the Israeli Entity
YemenExtra
Y.A



The Council of Ministers at its meeting Sunday, chaired by the President of the Council, Dr. Abdul Aziz Saleh bin Habtoor, strongly condemned  the Israeli entity of closing  Al-Aqsa Mosque on Friday and prevented  the entry of imams and preachers of the mosque and  Palestinians from praying in it

.
It pointed out that the Israeli entity is trying to exploit, feed, finance and support the events taking place in some Arab countries to implement its declared and undeclared plans in Al-Quds and Al-Aqsa Mosque.
The Council noted out that the Israeli entity's  guarantee of the attitudes of the Arab regimes encouraged it to increase its predecessor and commit such foolishness and acts against the Islamic sanctities. It expressed its condemnation of all forms of normalization with the state of the Israeli entity, which has serious repercussions on the central issue of the Arab nation  which is "The Palestinian cause
."
In this regard, the Council invited the Chairman of the Committee to participate in its next meeting to examine the tasks accomplished by the Committee and to identify the cooperation required from the government to support its important national efforts and to strengthen the level of contribution of the relevant government bodies to the success of its tasks.