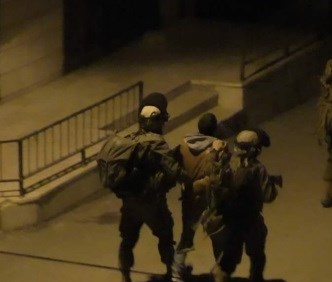 Israeli soldiers assault, take 'selfie' with injured Palestinian detainees
YemenExtra
Y.A
Two Palestinian prisoners, including one teenager, gave testimonies to the Palestinian Committee of Prisoners' Affairs, detailing the abuse and harassment they faced at the hands of Israeli forces during their arrests.
The committee released a statement on Monday saying that Israeli forces raided the home of brothers Tariq Baajeh, 26, and Ahmad Baajeh, 19, in the Qalqiliya-area town of Jayyus in the northern occupied West Bank around midnight on Sunday.
According to the brothers' testimonies, soldiers handcuffed and blindfolded the brothers before transferring them to a military zone near Qalqiliya in a military jeep.
"The Baajeh brothers were assaulted and insulted the entire time they were held at the military zone," the statement said, adding that after the soldiers beat up the brothers, soldier took a "selfie" with the injured brothers "in order to provoke them."
The brothers were then transferred to the Huwwara detention center near Nablus, and then to the Megiddo prison north of the West Bank, where they were strip searched.
Israeli raids in Palestinian towns, villages, and refugee camps are a daily occurrence in the occupied West Bank and East Jerusalem.
According to United Nations documentation, Israeli forces conducted 196 search and arrest operations across the West Bank, including nine children, between October 10 and October 23.
Human rights groups have widely documented the abuse of Palestinians by Israeli forces during night raids, and the harsh interrogation practices used to force their confessions, which has long been the target of criticism by the international community.
Defense for Children International – Palestine has said their research showed that almost two-thirds of Palestinian children detained in the occupied West Bank by Israeli forces had endured physical violence after their arrest.
Source : Website
Read More:
"Daesh" Continoues to Persecute Palestinian Civilians Living in Yarmouk Refugee Camp in Damascus