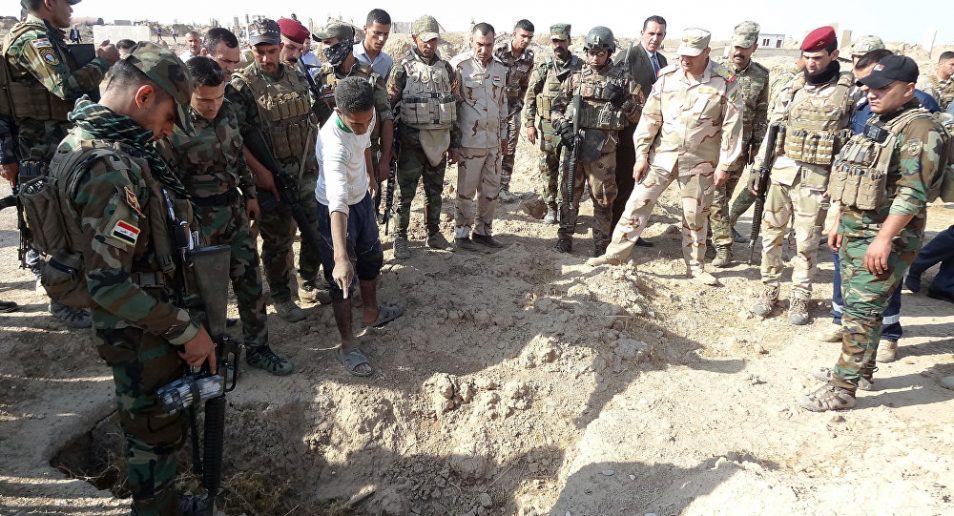 ISIS turns former US base in Iraq into gruesome mass grave
YemenExtra
Y.A
Iraqi authorities have revealed that several mass graves containing the remains of at least 400 civilians executed by Daesh (ISIS) have been found at a former US military facility in the country's Kirkuk Governorate.
"We are now standing at al-Bakara base, that was once a headquarters for US troops before being a site for IS (Daesh) to carry out executions," Rakan Saeed al-Jobouri, acting governor of Kirkuk, said as quoted by the Iraqi News website.
"It's the brutality of terrorists who executed no less than 400 victims, some of whom are in red suits while others are in civilian clothes," the official specified.
​He further called on the Iraqi government, United Nations and the Commission of Human Rights to conduct DNA examinations to identify the victims buried in the mass graves.
According to a Kirkuk police colonel, the al-Bakara base, located three kilometers north of the recently-liberated city of Hawija, southwestern Kirkuk, used to be an American military facility before being vacated in 2011.
In October, Iraqi troops said that they discovered a mass grave of at least 50 army and police officers in Hawija.
In the same month, paramilitary troops ran into ten mass graves of security personnel and civilians who were executed by Daesh.
In the middle of October, Iraqi federal troops restored their control over the oil rich province of Kirkuk following the unrecognized referendum on the independence of Iraqi Kurdistan. Until then, the province was run by Kurdish Peshmerga forces, which took it over from Daesh in 2014.
Baghdad decided to send its troops there due to the dispute with the Kurdish autonomy over the control of the region.
Source: Website