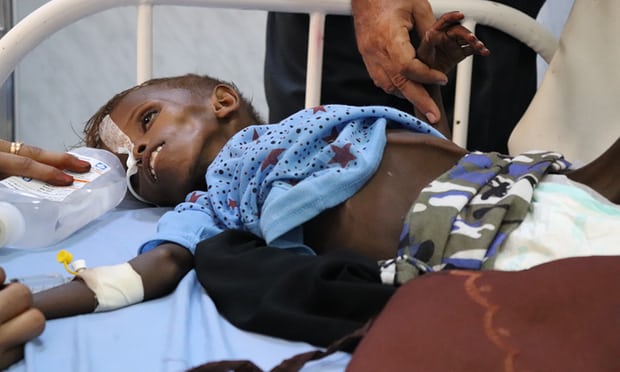 'Only God can save us': Yemeni children starve as aid is held at border
YemenExtra
SH.A.
Abdulaziz al-Husseinya lies skeletal and appears lifeless in a hospital in Yemen's western port city of Hodeidah. At the age of nine, he weighs less than one and a half stone, and is one of hundreds of thousands of children in the country suffering from acute malnutrition.
Seven million people are on on the brink of famine in war-torn Yemen, which was already in the grip of the world's worst cholera outbreak when coalition forces led by Saudi Arabia tightened its blockade on the country last week, stemming vital aid flows.
Al-Thawra hospital, where Abdulaziz is being treated, is reeling under the pressure of more than two years, Its corridors are packed, with patients now coming from five surrounding governorates to wait elbow-to-elbow for treatment.
Less than 45% of the country's medical facilities are still operating – most have closed due to fighting or a lack of funds, or have been bombed by coalition airstrikes. As a result, Al-Thawra is treating some 2,500 people a day, compared to 700 before the coalition in March 2015.
In addition to the hunger crisis, Yemen has seen the worst cholera outbreak ever recorded, with more than 900,000 suspected cases and over 2,190 deaths. Although numbers keep rising.