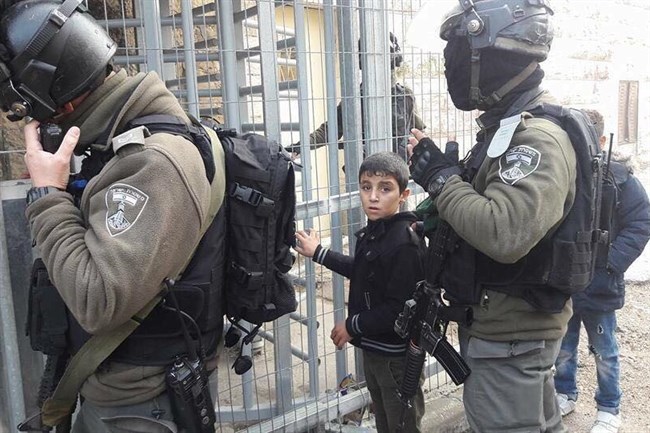 Israeli forces detain 9-year-old Palestinian boy in West Bank
YemenExtra
Y.A
Israeli forces detained at least nine Palestinians, including a nine-year-old boy, during raids between Wednesday night and Thursday morning in the occupied West Bank.
The Palestinian Prisoner's Society (PPS) reported that Israeli forces detained three Palestinians from the Hebron district in the southern West Bank, including nine-year-old Muhammad Ammar Daana, Mumen Ayoub al-Qawasmeh and Adel Barakat Ghaith.
Prisoner's rights group Addameer released a statement on their Facebook pge regarding Daana's detention, saying "a 9-year-old is not a terrorist; he poses no threat to the heavily armed soldier; he is but a prisoner in an elaborate system of control, which has been used to suppress a people's' legitimate struggle for self-determination and dignity."
Also in the southern West Bank, Israeli forces detained two Palestinians from the Bethlehem district. PPS identified them as Shadi al-Badawneh and Yousif Muhammad Daowud Salah.
Israeli forces detained a leader of the Islamic Jihad movement, identified as Said Nakhleh, from the al-Jalazun refugee camp in the central West Bank district of Ramallah.
In the northern West Bank, PPS reported that Israeli forces detained two Palestinians from the Jenin district. They were identified as Sharaf Abu Obeid from the al-Yamun town and Muhammad Saleh Sabaaneh from Qabatiya.
In Tulkarem, Israeli forces detained one Palestinian identified as Izz al-Din Abu Dayyeh.
Meanwhile in the Qalqiliya district, locals told Ma'an that Israeli forces raided more than 30 houses in the Azzun village and distributed flyers threatening sanctions against residents of the village if rock-throwing against soldiers and settlers on the main road near the village continues.
Locals said that more than 25 Israeli military jeeps raided the village from its northern entrance.
Some of the 30 house were identified as belonging to Hisham Adwan, a library belonging to Hamzeh Hussein and houses belonging to Khalid Shello, Adeeb Shello, Imad Shello and Zuheir Azmi Shello.
Israeli forces reportedly assaulted a Palestinian youth during the raid, causing him bruises. His identity remained unknown.
According to United Nations documentation, Israeli forces conducted 166 search and arrest operations across the West Bank between October 24 and November 26.
Meanwhile, Addameer recorded 6,198 Palestinians were detained by Israel as of October. The group has estimated that some 40 percent of Palestinian men will be detained by Israel at some point in their lives.
Source: Website