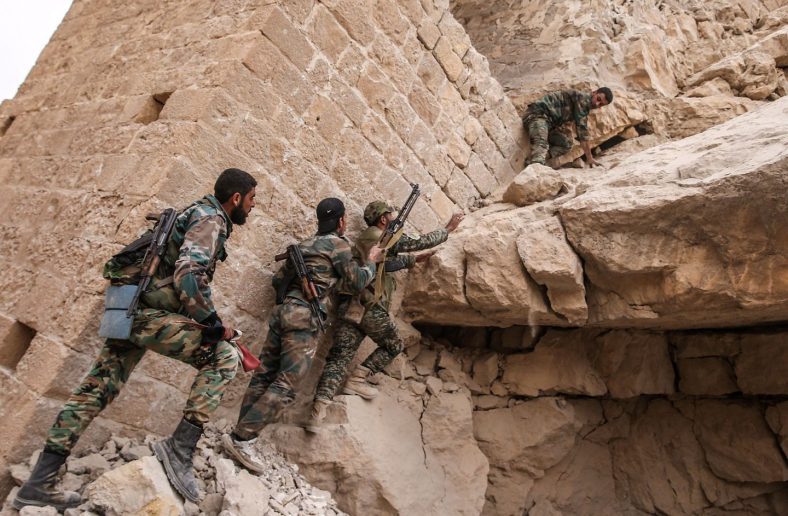 Syrian Army troops finishing Daesh defeat in Euphrates Valley – Russian MoD
YemenExtra
M.A.
After the liberation of the last major Daesh stronghold in Syria by government forces, the town of Abu Kamal, a swath of territory along the west bank of the Euphrates River remains the only region where Daesh units are currently still operating.
The Russian Defense Ministry has declared that Syrian government troops, supported by Russia's Aerospace Forces continue to conduct successful offensive operations in the Euphrates River Valley.
 "As part of the offensive operation planned under the guidance of Russian military advisers, units of Syrian troops under the command of Gen. Hassan Suhel completely liberated the locality of Al Qurayya from Daesh terrorists over 24 hours," the ministry's statement stated.
According to the Defense Ministry, Syrian army units are pursuing and eliminating groups of terrorists in the region of the Euphrates River valley and its west bank will soon be completely secured by government troops, which will make it possible to finish the operation to defeat the remaining Daesh militants in eastern Syria.
After the Syrian armed forces announced on November 9 that the government had gained control of Abu Kamal, the last Daesh stronghold in Syria, terrorists waged a counter attack and managed to retake the city. A week later, the Syrian army broke back into Abu Kamal and with the assistance of Russian jets cleansed the terrorists from the town.
This year the Daesh terrorist group has lost most of the territory it occupied during the Daesh lightning offensive in Syria and Iraq in 2014. The operation in the region around the town of Abu Kamal has been carried out in the wake of the breach of the blockade and complete liberation of the city of Deir ez-Zor, which secured a foothold for the further offensive of the Syrian Army in the province.