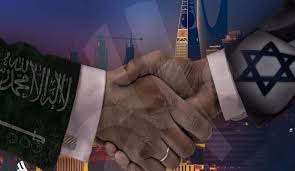 Saudi Arabia 'doesn't care' about the Palestinians, it can make a deal with Israel against Iran
YemenExtra
By:Raf Sanchez
Saudi Arabia is so eager to establish diplomatic relations with Israel that it is prepared to sign off on almost any type of Israeli-Palestinian peace deal no matter how unfavourable to the Palestinians, according to Benjamin Netanyahu's former security advisor.
Yaacov Nagel, who stepped down as the Israeli prime minister's national security advisor earlier this year, said Riyadh was so keen to begin open cooperation with Israel against Iran that it "doesn't care" what kind of deal is reached with the Palestinians.
"They just have to say there is an agreement between Israel and the Palestinians, they don't care, they don't give a damn about what will be in the agreement," Mr Nagel said. "They need to say there is an agreement in order to go for next steps."
Mr Nagel's comments come amid weeks of increasingly public signs that Israel and Saudi Arabia's relationship is warming while tensions rise between Riyadh and Tehran.
Saudi Arabia's Crown Prince Mohammed bin Salman enraged Iran by referring to the Iranian Supreme Leader Ayatollah Khamenei as "new Hitler of the Middle East". Tehran fired back that the ambitious young prince was "immature and weak-minded"
Meanwhile, the first aid flights began to land in Yemen's capital Sanaa on Saturday, after Saudi Arabia agreed to loosen a three-week blockade which the UN warned would lead to mass starvation.
Boris Johnson and others have urged Saudi Arabia to ease the blockade further to allow more food and supplies into the war-wracked country. 
Saudi leaders have always shied away from making formal peace with Israel out of fear of a backlash by their own public and from across the Arab world, where Israel is still widely seen as an enemy.
But under Mr Nagel's analysis, the current Saudi leadership under Crown Prince Mohammed bin Salman is looking for any type of Israeli-Palestinian peace deal so it will have political cover for normalising relations with Israel.
His theory raises the prospect that Saudi Arabia could try to force the Palestinians into accepting a deal, even an unfavourable one, when Donald Trump lays out his expected peace proposals early next year.
Unconfirmed media reports have suggested that Prince Mohammed had already begun pressuring Mahmoud Abbas, the Palestinian president, into accepting a US-brokered peace deal.
N
ormalisation of ties between Saudi Arabia and Israel would represent one of the biggest shifts in Middle Eastern politics in decades and would see the Jewish state and the Arab kingdom formally allied against their shared enemy Iran. 
Such an alignment would delight the White House as it would mean the two US allies could present a united front against Iran. After visiting Riyadh in February, Mr Trump hinted at the warming ties saying that he found the Saudi leadership to be "very positive" towards Israel.
An Israeli minister publicly confirmed for the first time this week that Israeli and Saudi officials had met but said that the meetings had been kept secret at Saudi Arabia's request. Asked if he had ever met with the Saudis during his time in the most senior ranks of the Israeli government, Mr Nagel said: "I didn't say yes, I didn't say no".
Adel al-Jubier, Saudi Arabia's foreign minister, has publicly insisted that there is no change to Riyadh's position. He said Saudi Arabia would only establish relations with Israel if the Israelis withdrew from all territories captured in 1967 and allowed for the establishment of an independent Palestinian state with East Jerusalem as its capital.
Mr Netanyahu's right-wing coalition government is unlikely to agree to those terms, setting up an impasse in the public positions of the Israeli and Saudi governments.
"There is no way that a peace initiative that does not embarrass the hell out of the Saudis would not shatter Benjamin Netanyahu's coalition," wrote Chemi Shalev, a columnist for the liberal Haaretz newspaper.
"The above shows that the Israeli media are making fun of Saudi Arabia while it continuing to plead with Israel"