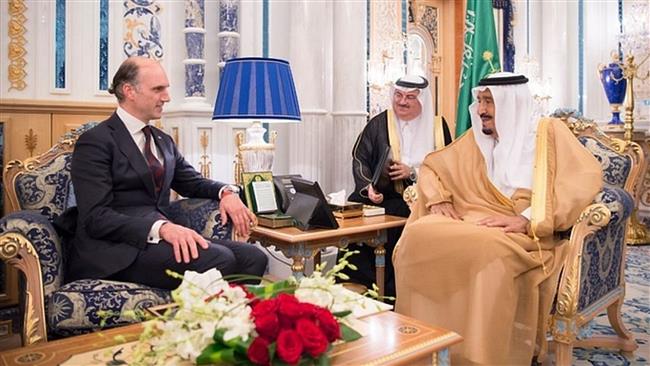 Saudis step up perks for British MPs to keep mum on Yemen: Report
YemenExtra
Saudi Arabia has reportedly intensified lobbying efforts since the start of its deadly war on Yemen, with dozens of British lawmakers having accepted thousands of pounds in lavish perks in breach of the code of conduct.
British MPs have enjoyed over £130,000 in Saudi hospitality since March 2015, when the kingdom launched its military campaign on Yemen, the Middle East Eye (MEE) reported on Sunday.
The online news portal cited the latest figures provided by the Register of Members' Financial Interests, the watchdog focused on the UK parliamentary expenses.
The hospitality service includes business-class flights, luxury hotel stays, fine dining and meetings with Saudi King Salman bin Abdulaziz Al Saud as well as senior officials.
The report said 13 Conservative MPs, including Leo Docherty, have received a total of £87,467 in hospitality from the Saudi regime this year, up almost threefold compared to the kingdom's 2016 spending on the service.
Docherty led a delegation of four backbench MPs in a six-day trip to Saudi Arabia back in September. During the visit, each MP received £7,800 in perks from the Saudi Foreign Ministry, including business-class flights, luxury accommodation and unspecified food, transport and hospitality.
Docherty, however, failed to disclose the trip, prompting Liberal Democrat lawmaker Tom Brake to send a letter of complaint to Kathryn Hudson, the parliamentary standards commissioner, and demand an investigation.
"It's bad enough seeing the [UK] government's constant failure to condemn Saudi Arabia's appalling human rights record, but now we're seeing a growing band of Tory MPs enjoying free trips courtesy of the Saudi regime," Brake told the MEE.
"The job of an MP is to scrutinize the government and their relationship with foreign regimes. Being best buddies with those same regimes is hardly likely to lead to forensic scrutiny of the UK government's actions," he added.
The figures come at a time that Riyadh-London ties are coming under scrutiny after MP Andrew Mitchell accused Britain of being "dangerously complicit" in a Saudi policy towards Yemen that is "promoting a famine." He also warned that the UK's engagement in the Yemen crisis was "doomed to strategic failure".
The Campaign Against the Arms Trade (CAAT), a UK-based organization working to end the international arms trade, said earlier this month that the UK's export of bombs and missiles to Saudi Arabia has increased by nearly 500 percent since the beginning of the Yemen war.
Saudi Arabia has been incessantly pounding Yemen in an attempt to crush the Houthi Ansarullah movement and reinstate former Riyadh-friendly regime, but the kingdom has achieved neither of its goals.
Press TV.