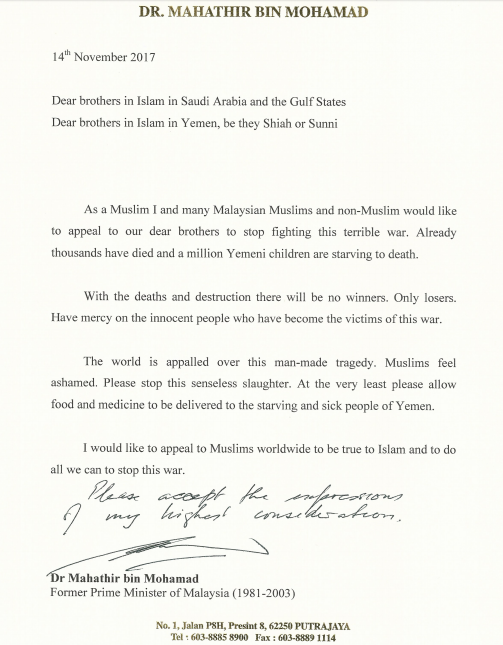 The Criminalization of War
YemenExtra
By: Tun Dr. Mahathir Mohamad
Global Research has received from Tun Dr. Mahathir Mohamad, 4th Prime Minister of Malaysia (1981-2003) an important message, addressed to Muslims in Saudi Arabia, the Gulf States and Yemen.
This message, however, is also addressed to the U.S. and its indefectible British ally which have relentlessly supported Saudi Arabia's war against the people of Yemen, a criminal act tantamount to genocide under international law.
The U.S. has been instrumental in supporting the naval blockade on the delivery of food and medicine to Yemen's starving children. In turn, the corporate media has payed lip service to the inaction of Western governments and their self-proclaimed "international community". Both the US and Britain have sold billions of dollars of weapons to Saudi Arabia, while also advising them on the conduct of military operations. In the words of Rep. Ron Paul
"[Why does] Washington support Saudi Arabia – a tyrannical state with one of the worst human rights record on earth – as it commits by what any measure is a genocide against the Yemeni people?"
Let us endorse this important message by Tun Mahathir who in the course of the last twelve years has sought to criminalize war as well as create the required legal conditions for the indictment of the political architects of modern warfare.
The Kuala Lumpur Initiative to Criminalize War
In 2005, after having served as Prime Minister of Malaysia for 22 years, Tun Dr. Mahathir Mohamad initiated a pathbreaking endeavor which consisted in criminalizing all acts of war. This historic initiative under the helm of Tun Dr. Mahathir resulted in the formulation of "The Kuala Lumpur Initiative to Criminalize War":
"Killings in war are as criminal as the killings within societies in times of peace. Since killings in peace time are subject to the domestic law of crime, killings in war must likewise be subject to the international law of crimes. This should be so irrespective of whether these killings in war are authorized or permitted by domestic law."
The letter from Dr. Mahathir bin Mohamad to the Muslim community in Saudi Arabia, the Gulf States and Yemen: