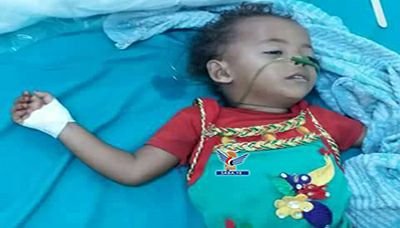 UNICEF: More than 11 million children in Yemen in acute need of aid
YemenExtra
Y.A
The United Nations Children's Fund (UNICEF) says more than 11 million Yemeni children in Yemen are in acute need of aid, stressing that it is estimated that every 10 minutes a child dies of a preventable disease there as Saudi Arabia pushes ahead with its devastating aerial bombardment campaign against the conflict-plagued Arab country.
Regional UNICEF director Geert Cappelaere said the UN child agency had lately flown 1.9 million doses of vaccines to Yemen, describing Saturday's shipment as a "very small step" amid immense need for medicine.
"We hope all will live up to their promises. These supplies are urgently needed," he told reporters in the Jordanian capital of Amman.
Cappelaere further noted that an outbreak of diphtheria, which has already spread to five provinces, has sounded new alarms about the disastrous health condition in Yemen.
"The war in Yemen is sadly a war on children. Yemen is facing the worst humanitarian crisis I have ever seen in my life," the senior UNICEF official pointed out.
The Saudi-led coalition has tightened its aerial and naval blockade on Yemen since November 6, when Yemeni forces launched a solid propellant and Scud-type Borkan-2 (Volcano-2) missile against King Khalid International Airport, located 35 kilometers north of the Saudi capital Riyadh, in retaliation for Riyadh's deadly airstrikes.
Saudi Arabia has been incessantly pounding Yemen since March 2015 in an attempt to crush the popular Houthi Ansarullah movement and reinstate former president, Abd Rabbuh Mansur Hadi, who is a staunch ally of the Riyadh regime.
More than 12,000 people have been killed since the onset of the campaign more than two and a half years ago. Much of the Arabian Peninsula country's infrastructure, including hospitals, schools and factories, has been reduced to rubble due to the war.
The Saudi-led war has also triggered a deadly cholera epidemic across Yemen.
According to the World Health Organization's latest count, the cholera outbreak has killed 2,167 people since the end of April and is suspected to have infected 841,906.
Meanwhile, the United Nations has described the current level of hunger in Yemen as "unprecedented," emphasizing that 17 million people are now food insecure in the country.
It added that 6.8 million, meaning almost one in four people, do not have enough food and rely entirely on external assistance.
A recent survey showed that almost one third of families have gaps in their diets, and hardly ever consume foods like pulses, vegetables, fruit, dairy products or meat.
More than 3 million pregnant and nursing women and children under 5 need support to prevent or cure malnutrition.
Source: Website