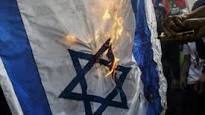 German police arrest 11 people for burning Israeli flag
YemenExtra
SH.A.
German police arrested a number of demonstrators late on Sunday (December 10th), following the protest of about 2,500 people and burning of the Israeli flag in the center of the German capital, condemning the United States declared recognition of Jerusalem as the capital of Israel.
German Justice Minister Haiku Mas told the German newspaper Bild on Monday that there was no place for anti-Semitism in Germany.
German Foreign Minister Zygmar Gabriel told Bild newspaper that despite criticism of President Trump's decision, it was not right for people to burn Israeli flag, incite hatred of Jews or question Israel's right to exist. , But also against the German Constitution. "
About 2,500 people demonstrated in Berlin on Sunday to protest against Trump's decision to burn Israeli flags, raise Palestinian flags and chant slogans condemning President Donald Trump's decision to recognize Jerusalem as the capital of Israel, police said. Added that, eleven people were involved in the burning of the flag.