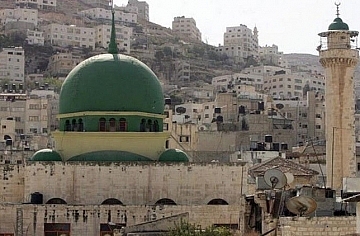 Journalist, human rights activist injured as Palestinians continue anti-Trump protests
YemenExtra
Y.A
Clashes between Palestinians and Israeli forces were renewed on Wednesday in several districts across the occupied West Bank as Palestinians continued to protest in rejection of the US President's decision to recognize Jerusalem as the capital of Israel. Israeli forces injure journalist in Hebron
Clashes erupted between Palestinian youth and Israeli soldiers in several areas across the Hebron district in the southern West Bank. In Hebron city, Halhul, and Dura, clashes broke out after Israeli forces suppressed marches in the area.
Palestinian youth threw rocks at an Israeli military checkpoint at the entrance of al-Shuhada street leading to the Old City in Hebron, as soldiers fired tear gas and stun grenades into crowds. Israeli soldiers also forced Palestinian shop owners to close their stores.
Locals told Ma'an that Israeli soldiers targeted journalists with stun grenades, injuring photojournalist Abd al-Hafith al-Hashlamon in the foot. His injury was reported as moderate.
Meanwhile, protesters burned an effigy of a pig with Trump's face on it during demonstrations.
At least four Palestinians were injured with rubber-coated steel bullets in the Halhul town, as Israeli soldiers closed off traffic in the area.
Clashes also erupted at the entrance of the Beit Ummar town. Palestinian youth demonstrated and threw rocks in front of the military watchtower located at the entrance of the town, while Israeli forces stationed themselves on the rooftops of several houses in the area, firing tear gas at youths and houses.
Human rights activist injured with rubber bullet in Bethlehem
In the northern part of Bethlehem City, in front of Israel's separation wall, clashes erupted between Palestinian youth who threw rocks and Israeli forces who fired tear gas and rubber-coated steel bullets at protesters.
Two rubber-coated steel bullet injuries were reported. Among the injured was human rights activist, lawyer Farid al-Atrash.
Source : Website