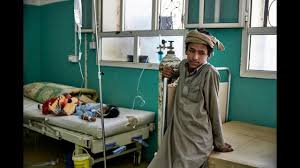 Yemen blockade leads to DIPTHERIA OUTBREAK
YemenExtra
SH.A.
The ongoing war and blockade are creating a new threat to public health in Yemen, as a suspected diphtheria outbreak takes hold, the aid agency "Doctors Without Borders" have warned.
The charity have revealed that by December 4, 318 suspected cases of diphtheria and 28 deaths had been reported in 15 of Yemen's 20 governorates.
According to emergency coordinator in Ibb, Marc Poncin, if left without treatment, diphtheria is fatal in up to 40% of the cases.
"But after 2.5 years of violence and a blockade on supplies including medicines and vaccines, the health infrastructure is in tatters. The blockade on fuel has meant that patients cannot afford to travel to the very few health centers still operating across the country.
"Globally, diphtheria has been eradicated from most countries after systematic childhood vaccination campaigns, and it's become something of a neglected and forgotten disease. Even in Yemen, the last diphtheria case was recorded in 1992, and the last outbreak in 1982. Its re-emergence is a clear indicator of the state of Yemen health's infrastructure."
Humanitarian actors are also struggling to start diphtheria treatment and prevention activities due to the ongoing logistical difficulties bringing specialized staff and needed supplies into Yemen and to areas where they're most needed.
"This is undeniably another human-made disease inflicted on a country that has barely recovered from a massive cholera outbreak – which is not even over yet," said Poncin.