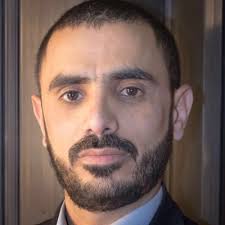 For the rest of the Arabs, be free and drop Al-Sa'ud!
YemenExtra
For the rest of the Arabs, be free and drop Al-Sa'ud!
By:Ali Al-Mahtouri
The steadfastness of Yemen, its military and missile presence, the victories of Syria and Iraq, and the rise of Hezbollah's strength all have led to the threat of another threat in the region, Saudi Arabia.
Even before the attack on Yemen, no one was talking about Saudi-Israeli relations except in a rare and very rare way,now, three years after the Saudi-US-Israeli attack on Yemen, the world is hearing every day a reciprocal flow between Riyadh and Tel Aviv.
An Israeli official talks about rapprochement with Riyadh, and sometimes the kingdom sends one of its journalists to interview an Israeli official of the weight of the chief of staff, Gadi Ayznkot. The Saudi website Elaph guarantees this. The Israeli official told him that "Saudi Arabia was not an enemy day for Israel". That is a bright, bright reality that many people ignore and care about.
What has been circulating recently about Saudi-Israeli relations reveals the size of the deceit in which the Arabs and Muslims have lived for 80 years, believing that Saudi Arabia is an Arab country, and discovered that it is another Israeli entity that speaks Arabic, as Israeli Minister Moshe Yaalon puts it.
When the issue reaches the singularity of expression, the language used to create that expression no longer has any value, since it is no different to be an Israeli Arab or an Israeli Hebrew.
Saudi Arabia's positions taken since Salman came to power have become one course that ends relations with Israel from its secret status to the public in exchange for the consolidation of power in Salman's family.
There is a blurring saying that someone attacked a Jewish girl who wanted something from her. So she shouted: "Jewish, Jewish," he replied: "Judaism is at home." The tirafa indicates that the wife's quarrelsome in the house made her husband alienate her and ask others, even if she is haraam.
This is the reality of what people see before them a fact that has been hidden for decades, that Israel is not the one that occupies Palestine only, but there is another Israel masked by the name of "Saudi Arabia" problematic and troublesome, wars and strife with more than one country.
O Arabs, and I am sorry that your club is ashamed of it
Be free and drop the House of Saud
Be free and give you your Arabism and restore Palestine.