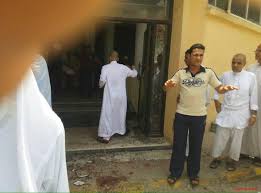 Saudi forces kill Shia activist in Qatif
YemenExtra
Saudi forces have killed a Shia activist during a raid on his house in the Qatif region, Eastern Province.
The Taghrid Ahrar Twitter account reported that Salman al-Faraj was killed during the raid on Tuesday.
The Riyadh regime's forces briefly arrested his wife, Sakina al-Faraj, who was injured in the attack.
The victim's brother Zaki al-Faraj and his nephew Salman were also arrested.
Meanwhile, Saudi sources claimed that a soldier named Khaled al-Sameti was also killed during the raid. The sources claimed that Salman al-Faraj was involved in the kidnapping and murder of Mohammed al-Jirani, a judge in Qatif, last year.
The Shia-populated Eastern Province has been the scene of peaceful demonstrations since February 2011. Protesters have been demanding reforms, freedom of expression, the release of political prisoners, and an end to economic and religious discrimination against the oil-rich region.
The protests have been met with a heavy-handed crackdown by the regime. Security forces have increased security measures across the province.
Over the past years, Riyadh has also redefined its anti-terrorism laws so as to also target activism.
In January 2016, Saudi authorities executed Shia cleric Sheikh Nimr Baqir al-Nimr, who was an outspoken critic of the policies of the Riyadh regime. Nimr had been arrested in Qatif in 2012.
Source:Websites