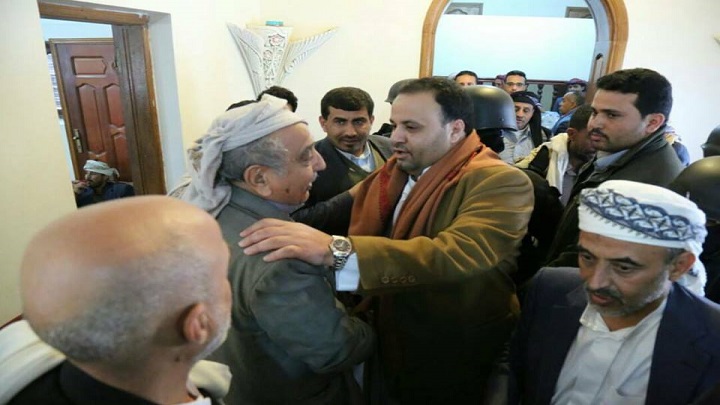 President Samad Offer His Condolences to the Mourners of Ibrahim Al-Wazir
YemenExtra
M.A.
President Saleh gave his condolences on the death of Sayyid Ibrahim bin Mohammed bin Ahmed Al-Wazir who has left this world after a life full of national tender in the scientific and political fields.
During his visit to the funeral hall, the President expressed condolences for the loss of Sayyid Ibrahim, pointing out his equality and his call for justice for the Yemeni people.
The president also pointed out that the history of Sayyid Ibrahim Al-Wazir will always show that he was decent and a humble man. His recent stand was his opposition of the Saudi-led coalition on Yemen. His way of thinking will continue to be a guiding light for generations.
The sons of the deceased, Dr. Ismail, Abdullah, Ahmed and Ali praised the President of the Supreme Political Council for the visit and his kind words towards their father .. They stressed that they will remain on the footsteps of their father, Sayyid Ibrahim Al-Wazir