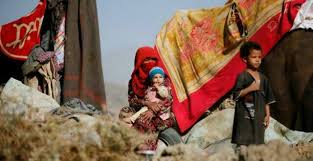 Coalition has long imposed blockade on Yemen's air, sea ports and borders
YemenExtra
SH.A.
"The Yemeni transportation ministry precisely pursues developments related to al-Hudayda port and strongly rejects the Saudi ambassador's claims in his al-Jazeera news channel interview that four cranes have entered the port as well as other things that are claimed in the satellite channels and websites about the removal of the siege," the ministry said in a statement on Saturday.
The kingdom claimed that the port of Hudayda would remain open to humanitarian and commercial ships for a month.
The Saudi-led coalition has long imposed a blockade of Yemen's air and sea ports and borders and has intensified the siege after the missile was fired at Riyadh, citing concerns that weapons were being smuggled into Yemen.
The siege has pushed the impoverished country into a humanitarian catastrophe.
A recent survey showed that almost one third of families have gaps in their diets, and hardly ever consume foods like pulses, vegetables, fruit, dairy products or meat.
More than 3 million pregnant and nursing women and children under 5 need support to prevent or cure malnutrition.