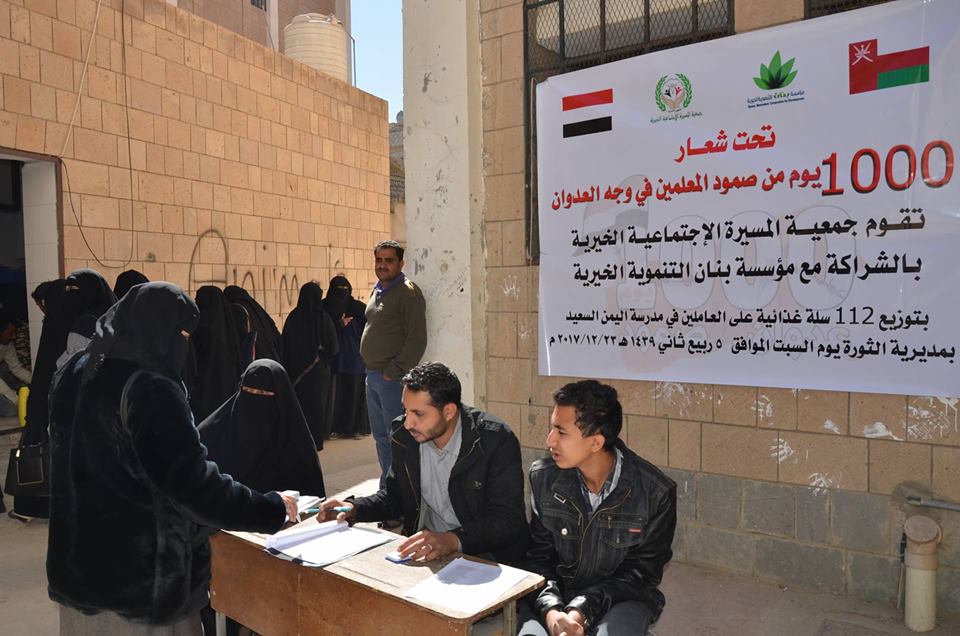 Masirah foundation distributes 112 food baskets over 1,000 days of steadfastness of Yemeni people
YemenExtra
Y.A

On March 23, 2017, the Social Welfare foundation , in partnership with Bonian Development Charity Foundation, launched a distribution of 112 food baskets for teachers at the Happy Yemen School under the slogan "1000 days of teachers' steadfastness in the face of aggression".

The inauguration was attended by the Secretary General of the Masirah foundation, Moin Al Shami.

He pointed out that Al-Masirah foundation seeks to touch the conditions of teachers and educators, especially in such circumstances as the country is going through and the deterioration of the living conditions, in addition to the lack of salaries due to the continuation of the siege by the aggression and almost the lack of state revenues

For her part, the Director of the Happy Yemen School for Girls expressed her deep thanks to the Social Welfare foundation and Bonian Development Foundation for their generous appreciation for the suffering of educators. She called on local and international relief organizations to spare efforts to touch the suffering of educators and teachers .

It is worth mentioning that Al-Masirah foundation stands out in support of many humanitarian projects and seeks to expand its activities in the field of development, relief and humanitarian response among the displaced and needy groups, and seeks to contribute to the Yemeni economic, educational, health, social and cultural development and achieve the highest rate of humanitarian response to improve livelihoods in

many provinces.