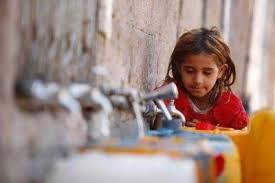 Yemen ports should keep open to aid and commercial vessels: UN
YemenExtra
SH.A.
With close to three-fourths of all people in Yemen in need of humanitarian assistance, the United Nations top relief official has underscored the need to keep all ports open to both aid and commercial vessels so that life-saving assistance reaches those in desperate need.
"I remain deeply concerned about the ongoing crisis in Yemen, where more than 22 million people need humanitarian assistance' 8.4 million of whom are already on the edge of starvation," Mark Lowcock, the UN Emergency Relief Coordinator, said in a statement on Sunday.
The war on the country, well into its third year, has resulted in widespread hunger, malnutrition, internal displacement, the world's largest cholera outbreak, an alarming diphtheria outbreak and other complex humanitarian challenges.
Amid such a situation, it is essential that commercial food, medicine and fuel imports, "a lifeline for millions of civilians" can flow into all ports.
Commercial food imports are needed to keep food available and affordable in markets across the country, and fuel is essential to run generators in hospitals and health facilities as well as power critical services.
Furthermore, as aid supplies are often shipped on commercial vessels, it is all the more important to keep all ports open to humanitarian and commercial vessels, Lowcock added.
Websites