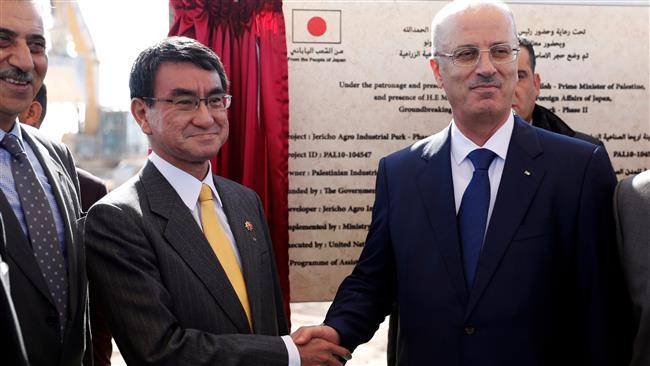 Japan not to relocate embassy to Jerusalem al-Quds: FM
YemenExtra
M.A.
Japan's Foreign Minister Taro Kono says Tokyo will not move its embassy to Jerusalem al-Quds, stressing that the status of the holy city should be determined through dialog.
During a visit to Amman on Tuesday, Kano sat down for talks with his Jordanian counterpart, Ayman Safadi, over a recent US decision on December 6 to recognize Jerusalem al-Quds as Israel's "capital."
The controversial decision was announced on December 6 by US President Donald Trump, who also said the White House was preparing to relocate the American embassy from Tel Aviv to the Israeli-occupied city.
During the talks, Safadi, whose country is the custodian of the Haram al-Sharif in East Jerusalem al-Quds, stressed that the status of the holy city should be decided "through direct negotiations and according to the relevant international resolutions."
Kano also said his country, a longstanding US ally, would not follow in US footsteps on Jerusalem al-Quds, and agreed with Safadi that dialog is needed to determine the status of the city.
The dramatic shift in Washington's Jerusalem al-Quds policy has drawn fierce criticism from the international community, including the United States' Western allies, and triggered demonstrations against the US and Israel worldwide.
Over a dozen Palestinian protesters have been killed by Israeli forces and hundreds of others wounded during the ongoing rallies across the occupied Palestinian territories.
On Thursday, the United Nations General Assembly overwhelmingly voted in favor of a resolution that calls on the US to withdraw its controversial decision.
During the UN meeting, only eight countries sided with the US, including Guatemala, which announced on Sunday it would relocate its embassy to Jerusalem al-Quds.
In an attempt to avert the resolution, Trump had warned that "we're watching," threatening reprisals against countries that back the measure, which earlier faced a US veto at the UN Security Council.
Israel, however, rejected the world body's resolution while thanking Trump for his decision to move US embassy from Tel Aviv to Jerusalem al-Quds.
PressTV