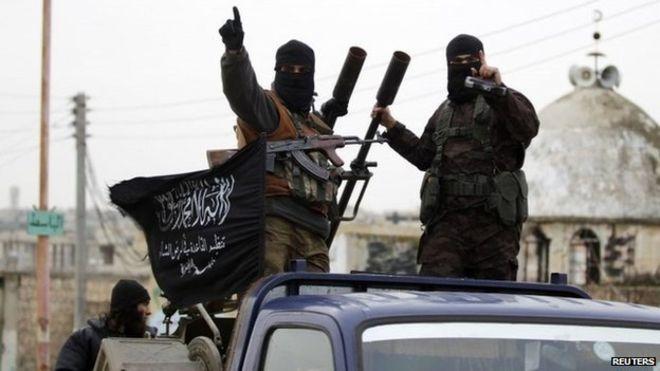 Russia has information about which nations support Nusra in Syria
YemenExtra
M.A.
Russian Foreign Minister Sergei Lavrov said Wednesday that al-Nusra Front terrorists were getting help from the outside.
"They are still resisting, including via receiving external help, according to our information," Lavrov said.
"Of course, the main anti-terrorist task now is to defeat Nusra Front as well," Lavrov said at a meeting with leader of Syria's Tomorrow opposition movement Ahmad Jarba.
According to the Russian foreign minister, the Syrian army and its allies, with Russian support, is "putting pressure on Nusra members."
While speaking about Daesh terrorist group in Syria, Lavrov noted that the group suffered a decisive blow and it was clear that the main fight was over.
"We are seeing positive changes in Syria. A decisive blow has been dealt on the IS [Daesh]. And although some militants who have fled the battlefield are trying either to regroup in Syria or to flee abroad, it is clear that the main fight is over."
Earlier this month, Russian Defense Minister Sergei Shoigu reported a complete victory over Daesh terrorists in the east and west banks of the Euphrates River in Syria, followed by President Vladimir Putin's order to withdraw the majority of Russian troops from the country, with two bases in Hmeymim and Tartus remaining.
On the Syrian National Dialogue Congress
Moscow sees broad support for the Syria national dialogue congress among Syrians themselves, tribe leaders, Sergei Lavrov said.
"Being based on the results of eight meetings in Astana, as you know, the presidents of Russia, Turkey and Iran put forward the initiative to convene the congress of the Syrian national dialogue in Sochi on January 29-30," Lavrov said at a meeting with leader of Syria's Tomorrow opposition movement Ahmad Jarba.
 "We see broad support for this event among the Syrians, first of all Syrians who live in their country, including the majority of tribal leaders," he said.
According to the foreign minister, external Syrian opposition taking part in Geneva talks had been invited to the congress.
The Syrian National Dialogue Congress is the third format of reconciliation negotiations between the Syrian government and opposition, along with the Geneva and Astana talks.
Following last week's eighth round of the Astana talks, Russia, Turkey and Iran, the guarantors of the ceasefire in Syria, stated that that the Congress would be held in Sochi on January 29-30, 2018, with a special preparatory meeting taking place on January 19-20.
The congress will bring together a vast number of opposition and pro-governmental forces, as well as representatives of all ethnic and religious groups of Syria to push forward the process of the political settlement in the war-torn country and address the issues of the future Syrian constitution.
Source: Sputnik