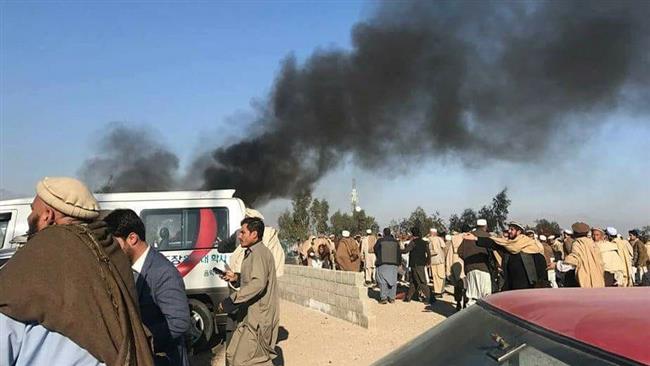 At least 18 people killed in bomb attack in Afghanistan's Nangarhar province
YemenExtra
M.A.
At least 18 people have lost their lives after a terror blast hit funeral mourners in Afghanistan's eastern province of Nangarhar, local officials say.
The deadly explosion occurred when a terrorist detonated an explosive vest amid mourners, who had attended a funeral in Behsud district of the provincial capital of Jalalabad on Sunday, said Nangarhar governor spokesman Attaullah Khogyani, adding that the blast also wounded at least 14 others.
All the casualties have been announced to be civilians, who had gathered for the funeral of a former district governor at a cemetery in the city.
There was no immediate claim of responsibility but the Taliban militant group and the Daesh Takfiri terrorist outfit have increased attacks in recent months, with ordinary Afghans bearing the brunt of the violence.
An earlier statement from the governor's office said a dozen people had lost their lives in the terror attack in the restive province bordering Pakistan.
The Sunday blast came just three days after a much deadlier explosion, claimed by Daesh, killed at least 41 people in the Afghan capital of Kabul.
According to data compiled by the UN Assistance Mission in Afghanistan, more than 8,000 civilians were killed or injured in conflict-related violence in the first nine months of 2017.
Last year's civilian casualty toll of 11,418 was the highest record for a single year since the world body commenced systematically documenting civilian deaths and injuries in 2009.
Afghanistan is engulfed by violence, and many parts of the country remain plagued by militancy despite the presence of thousands of foreign troops.
The United States and its NATO allies invaded the country as part of Washington's so-called war on terror in 2001. The offensive removed a Taliban regime from power.
PressTV