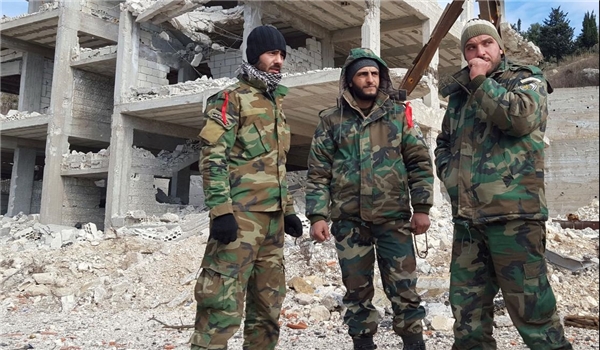 Syrian army thwarts heavy Al-Qaeda attack in Hama
YemenExtra
M.A.
The Syrian Arab Army (SAA) has thwarted a heavy offensive by terrorist organisation Hayyat Tahrir al-Sham (HTS) on a key road linking the city of Salamiyah with Homs.
The attack, that took place in the south-east of the Hama Governorate of Syria, was carried out on Sunday by militants from the Al-Qaeda linked HTS organisation, formerly known as the Al-Nusra Front. Field sources report that Syrian government forces stationed in the area successfully repelled the attack, leading to numerous casualties amongst the terrorists. Remaining Al-Qaeda militants reportedly retreated under heavy fire towards thee pocket of territory they still occupy in the Hama countryside.
The HTS attack comes in response to earlier Syrian army offensives against rebel positions in Northeastern Hama and Southeastern Idlib. Reports have it that the army engaged in heavy fighting with Al-Qaeda militants, and captured two strategic hills of Jadou'a and al-Za'atar in Northeastern Hama, as well as the village of al-Jadou'a in Southeastern Idlib.
Al Masdar News