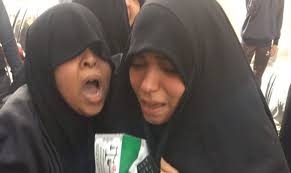 Saudis regime pursuing forced emigration of Shias from Bahrain
YemenExtra
SH.A.
"The Saudis are pressuring Al Khalifa to commit crimes against Shiites. In this way, they are trying to force Shiites to emigrate from the country," said Deputy Secretary-General of Bahrain's Islamic Action Society (Al-Amal) Sheikh Abdullah Saleh.
He slammed the Manama regime for trying civilians in military courts and torturing and executing people and said that the regime intends to take revenge on the people and Ulema (religious scholars), including prominent Shiite cleric Sheikh Isa Qassim, for their resistance in the past seven years since the country's uprising began.
The cleric pointed to Manama's failure to quash dissent in 2017 despite execution of several people and predicted an increase in pressures against the Shiite population in 2018.
Bahrain, a close ally of the US in the Persian Gulf region, has been witnessing almost daily protests against the ruling Al Khalifa dynasty since early 2011, with Manama using heavy-handed measures in an attempt to crush the demonstrations.
Scores of Bahrainis have been killed and hundreds of others injured and arrested in the ongoing crackdown on the peaceful demonstrations.
Amnesty International and many other international rights organizations have frequently censured the Bahraini regime for the rampant human rights abuses against opposition groups and anti-regime protesters.