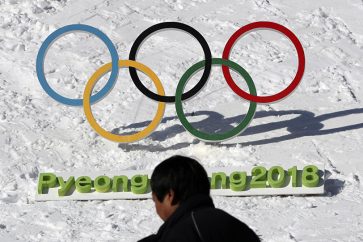 What does North Korea want from the Olympics?
YemenExtra
South Korea has proposed marching together with North Korea at next month's Winter Olympics opening ceremony and also forming a joint women's ice hockey team, a government minister said on Friday.
The proposal was made during Tuesday's inter-Korean talks, where North Korea confirmed it would attend the Pyeongchang Olympics following months of tensions over its nuclear weapons program.
"We made various proposals including the fielding of a joint women's ice hockey team and a joint march into the Olympic stadium," South Korea's vice-sports minister Roh Tae-Kang said, according to Yonhap news agency.
The proposals were not made public at the time.
A joint march at the opening ceremony would be a stunning statement for the "Peace Olympics", which will open about 50 miles (80 kilometers) from the Korean border on February 9.
The two Koreas, who are still technically at war, marched together at the opening ceremonies of the 2000 Sydney Olympics, the 2004 Athens Games and the 2006 Winter Olympics in Turin.
North Korea boycotted the 1988 Summer Games in Seoul, meaning Pyeongchang will be the first Olympics they have attended in the South.