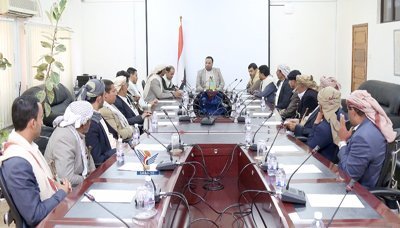 Al_Sammad meets Amran's governor, tribal sheikhs
YemenExtra
SH.A.
President of Yemen's Supreme Political Council Saleh al-Sammad met on Saturday with governor of Amran province Fisal Joma'an and a number of sheikhs and dignitaries from Hashed tribe.
The meeting discussed the situation in the province and its needs in light of the ongoing aggression and blockade that has left catastrophic effects on citizens' livelihood.
The meeting touched on the role of sheikhs and people in the province in strengthening the internal front and maintaining the security, stability and tranquility in the province.
In the meeting, the president appreciated the honorable positions of Hashed tribe in defending the revolution, the republic regime and the unity.
Al-Sammad stressed that the building of the homeland and maintaining its security and stability is a collective responsibility.
"Hashed tribe will never be defamed by acts of betrayers that do not belong to Yemen, the people and tribe," the president said.
He pointed out that Hashed tribe like all Yemeni tribe was a victim of the aggressors' plot, affirming that the aggression coalition's attempts to drag Hashed tribe to the square of sedition, violence and chaos have filed because of the awareness of the tribe's sons.
The president emphasized that Hashed will remain the owner of the distinct rank among the Yemeni tribes that are loyal only to Allah and the homeland.
The sons of Hashed tribe confirmed that they will be as they always were loyal soldiers to the homeland and its security and stability and against the calls of separation, sabotage and chaos.
The president ordered the release of some leaders and individuals from Amran province, who took part in the recent sedition, including the ex-minister of telecommunication Jildan Mahmood Jildan and sheikh Mabkhoot al-Mashreqi.
Saba.net