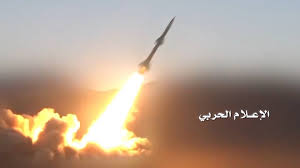 Yemeni Burkan H2, Hits King Khalid Internatonal Airport,Riyadh
YemenExtra
SH.A.
The Yemeni missile force fired a ballistic missile on the Saudi depth ,on Tuesday,on the King Khalid International Airport in Riyadh ,the missile of type Burkan,H2 .
A military source confirmed that the missile hit its target with high accuracy and caused material and human damage.
King Khalid International Airport is the largest airport in the world,its area is 225 square kilometers. It is the center of the Saudi air transport system and is located inside Saudi Arabia with a range of more than 1,000 kilometers from the nearest point in the Yemeni border.
The source confirmed that, targeting of Khaled International Airport in the context of the practical response to coalition's crimes on Yemen.
It is noteworthy that King Khalid Airport was hit by a ballistic missile of the same type on November 4 of  2017.
The missile, comes hours after the ambassadors of the 15 countries of the UN Security Council on Monday (January 29th) went to Washington to inspect the wreckage of the first missile which struck the same target.