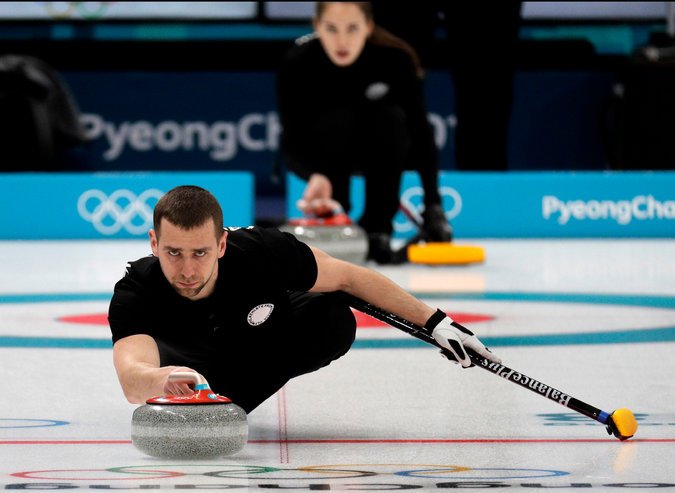 Russian Doping Case Rocks Olympic Curling
YemenExtra
Victoria Moiseeva, in a high-stakes match, found it impossible to push a brewing scandal out of her mind on Monday morning at Gangneung Curling Centre. It was the first time in her life, she said, that she could not fully focus while competing.
"It's a catastrophe," she said.
Moiseeva, the skip, or head curler, of the Russian women's team was referring to the possible effects of a failed doping test by a fellow Russian curler here at the 2018 Winter Olympics.
She and some other Russian athletes fretted that the damage from this single case could be widespread.
"This is simply terrifying to think about," she said.
The athlete, Alexander Krushelnytsky, is the first from Russia to come under investigation at these Games for using a banned substance, jeopardizing the bronze medal he won last week in the mixed doubles competition with his wife. It also complicates Russia's effort to rehabilitate its image after a vast state-backed cheating scheme at the 2014 Sochi Games it hosted left it nominally barred as a team from the Games.
The International Olympic Committee had been considering allowing Russia to march under its own flag at the closing ceremony Sunday. But several members now privately suggested that allowing that would risk appearing to appease Russia and could undercut an effort to play up the peacemaking presence of a North Korea delegation at the Games.
"I was a bit shocked this morning," said Madeleine Dupont, the skip of the Danish women's team. "I was like, 'That cannot be true.' But then again, people have been taking all sorts of stuff: natural medicine or lip balm or I don't know what. So I wouldn't really judge anyone until I knew it was on purpose."
Asked if she thought the sport's reputation could be harmed, Dupont said: "I think most people will laugh and be like, 'What would you possibly need doping for?'"
Krushelnytsky, in a routine urine check, was found to have traces of meldonium in his system. Use of the drug, a heart medicine that increases blood flow and has been banned from most sports since 2016, has ensnared other Russian athletes in doping cases in the past couple years.
Neither Krushelnytsky, who has left the athletes' village for Seoul, the South Korean capital, to await the results of the final test, nor his wife, Anastasia Bryzgalova, are competing in the team events.
Source:The New Youk Times