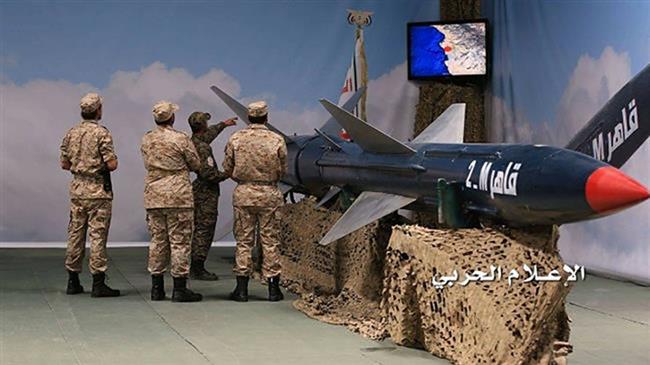 Claims of delivery of Iran missiles to Yemen 'foolish scenario': Qassemi
YemenExtra
M.A.
Iran has once again rejected the allegations about the Islamic Republic's provision of missiles to Yemeni forces, saying such claims are lies and a foolish scenario.
"Iran's missile program is for defensive and deterrent [purposes] and claims about the dispatch of missiles to Yemen despite the all-out blockade on this country are lies and a foolish scenario designed to exonerate the aggressors," Iranian Foreign Ministry Spokesman Bahram Qassemi said on Tuesday.
He added that Britain and France have expressed their concern over Iran's defensive missile program without providing any reason or wise justification.
A group of so-called independent United Nations experts monitoring the sanctions on Yemen reported to the Security Council in January that it had "identified missile remnants, related military equipment and military unmanned aerial vehicles that are of Iranian origin and were brought into Yemen after the imposition of the targeted arms embargo."
British Foreign Secretary Boris Johnson in a statement on Monday called on Iran to stop taking actions which could lead to further escalation of the Yemeni conflict.
"I call on Iran to cease activity which risks escalating the conflict and to support a political solution to the conflict in Yemen," Johnson said.
His remarks came on the same day that the French foreign ministry also said in a statement that Paris was concerned about Iran's ballistic missiles program and its activities in the region, mentioning its support for Ansarullah in Yemen.
In reaction to the allegations, Qassemi said the Islamic Republic has designed its defensive missile program based on its military doctrine and valuable experience it obtained during the eight-year war imposed on it by Iraq backed by major global powers in the 1980s.
He added that Iran's missile program aims to deter any aggression by extremist powers against the country.
"In this clear path that is completely in conformity with international principles, we will never accept other countries' intervention and regard as irresponsible and suspicious the adoption of such unprincipled stance and strongly reject them," Qassemi said.
He emphasized that the Yemeni army and people have no need for foreign countries' weapons, saying the Yemenis' defense of their country's dignity with minimum facilities has led to the defeat of aggressors.
The chief commander of Iran's Islamic Revolution Guards Corps (IRGC) in January dismissed the allegations leveled by the US and its allies about the Islamic Republic's provision of missiles to Yemeni forces.
Iran's Parliament Speaker Ali Larijani also said in December that the Islamic Republic is not providing military assistance to Yemen and all claims to this effect are false.
Qassemi further called for an immediate end to the sale of European and US arms to Saudi Arabia and other aggressors and warmongers who are killing innocent Yemeni people on a daily basis.
A Saudi Arabian-led coalition launched a war against Yemen in 2015 and has ever since been indiscriminately hitting targets in the country. Yemeni Ansarullah fighters have been firing missiles in retaliatory attacks against Saudi targets every now and then.
The US State Department in January approved a possible $500-million sale of missile system support services to Saudi Arabia in defiance of global calls for Washington to stop providing Riyadh with military support due to the regime's war crimes in Yemen.
During his first trip to Saudi Arabia last year, US President Donald Trump signed a $110 billion arms deal with the Saudis, with options to sell up to $350 billion over a decade.
Iranian Foreign Minister Mohammad Javad Zarif said in December the United States is complicit in Saudi war crimes in Yemen amid Washington's baseless claim that Tehran is providing supply of ballistic missiles to Yemen's Houthi Ansarullah movement.
He added that the US has sold weapons to its allies enabling them to "kill civilians and impose famine," in reference to Washington's arms deal with Riyadh in its aggression against Yemen.
PressTV