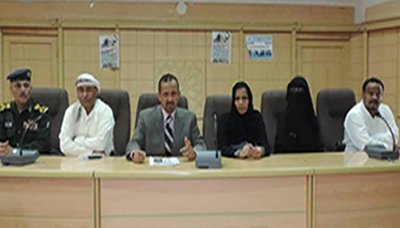 Yemenis attempt to alleviate humanitarian catastrophe, HR minister takes procedures
YemenExtra
M.A.
Minister of Human Rights Alia Faysal Abdul Latif and Governor of Hudayda Hassan Ahmed Al-Heij inspected on Monday the humanitarian situation in Hudayda Governorate, western Yemen. 
At the meeting, the minister stressed on the necessity of activating humanitarian work in the governorate.
The humanitarian situation in the Red Sea governorate, as well as in the country, has massively deteriorated as a result of the three-year-old US-backed Saudi-led war and its blockade.
She stressed on enhancing the partnership and cooperation between all sectors in the coastal governorate and activating the work of administrative units to ameliorate the catastrophic humanitarian situation.
Meanwhile, the governor pointed out the need to focus on the humanitarian situation associated with prisons, the fish sector, women and internally displaced people.