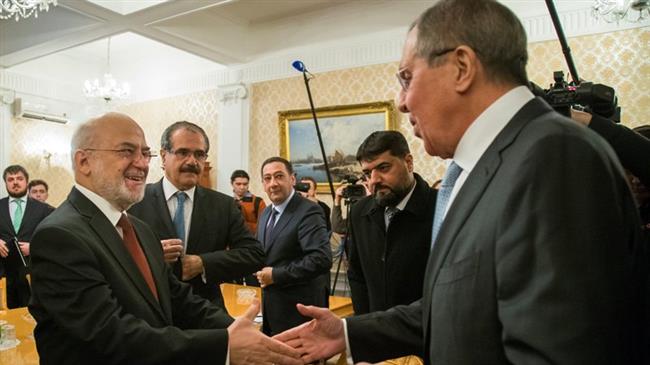 Moscow assists Baghdad in ensuring security: FM Jaafari
YemenExtra
Y.A
The Iraqi foreign minister says Baghdad is receiving assistance from Russia in ensuring security in the Arab country, ravaged by the war against the Daesh terror group, and that the two sides "exchange information" on a regular basis.
"It is difficult for a country to be restored after the war alone," Ibrahim Jaafari, who headed a high-level Iraqi delegation to Russia, told a press conference in Moscow on Wednesday, adding, "Russia is providing support for us."
"We are exchanging information, and Russia is also providing assistance in security area," said the top Iraqi diplomat.
Jaafari also expressed willingness to expand economic and energy cooperation with Russia, saying Baghdad was open to business with any company, including Russian firms, interested in supporting the country's post-war construction efforts.
"We are not closing doors for any company, which wants to help us," he said. "We need assistance and are optimistic about cooperation with Russia in the energy sector. We are aware of the huge potential and experience that Russia has in this field," he noted

During his stay in Russia, Jaafari also attended a meeting of the Russian-Iraqi intergovernmental commission co-chaired by Russian Deputy Prime Minister Dmitry Rogozin on Tuesday.

In the meeting, Rogozin said the security situation has improved in Iraq and the country is now safer for the Russian companies.

The Iraqi foreign minister had also held talks with his Russian counterpart Sergei Lavrov a day earlier, during which the two diplomats discussed Moscow-Baghdad bilateral ties and ways to deepen cooperation in all areas, including energy and defense sectors.

During the Monday meeting, Jaafari said his country was interested in continuing security coordination and information exchange with Russia to limit the spread of terrorist cells.

He further said that Baghdad was seeking to mobilize the international community and friendly countries in the reconstruction of Iraqi infrastructure.

Lavrov, for his part, said Moscow was ready to support the Iraqi government in its efforts to restore security and stability.

The top Russian diplomat voiced support for Iraq's sovereignty and efforts to reconstruct the country after its great victories against terrorism.

Last month, the participants in an international conference on reconstructing Iraq, which was held in Kuwait, agreed to earmark $30 billion for reconstructing Iraq, which is reeling from the Daesh terror group's campaign of death and destruction.

Russian Deputy Prime Minister Arkady Dvorkovich, who attended the forum, said Moscow ready to enter into major infrastructure projects in Iraq via public-private partnership.

Iraq is seeking $88.2 billion in aid from donors to fund its reconstruction efforts.

Reports also say Baghdad is in talks with Russia to purchase S-400 missile defense systems.

Daesh unleashed a campaign of death and terror in Iraq in 2014, overrunning vast swathes in lightning attacks. Iraqi army soldiers and allied fighters then launched operations to eliminate Daesh and retake lost territory.

It took over three years for Iraqi armed forces to fully liberate the country's territory from the clutches of Daesh terrorists.

Source: Website