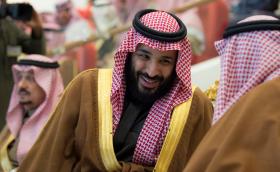 Mohammed Bin Salman: 'Bizarre' PR drive launched by Saudi Crown Prince's backers in face of UK protests over Yemen war
YemenExtra
Y.A
Backers of Saudi Arabia's Crown Prince have launched a "bizarre" public relations drive to improve his image, as he is accused of waging a bloody war in Yemen ahead of an official visit to the UK..
Mohammad bin Salman will be met by both Theresa May and the Queen, but also by protests and anger which Labour's Emily Thornberry said is about air-strikes on Yemeni civilians, "killing and injuring hundreds".
But anticipating bad publicity, the Saudi regime's supporters are pushing back – sending digital poster vans around London and even purchasing advertising that appeared next to Ms Thornberry's attack article in the press.
Theresa May has said she will raise "deep concerns" over the humanitarian crisis in Yemen, but the red-carpet treatment for the Prince indicates the UK is concerned about keeping his favour with billions of pounds of post-Brexit trade at stake.
In a piece in The Guardian, Shadow Foreign Secretary Ms Thornberry wrote that the three-day visit showed the Government "doesn't care a jot about human rights."
She went on: "Today the architect of that Saudi intervention in Yemen – Crown Prince Mohammad bin Salman – will visit Britain, and will receive the red carpet treatment from the Tory government, as if he were Nelson Mandela.
"This is the man behind the rolling blockade of Yemen's rebel-held ports, preventing the supply of essential food, medicine and fuel to Yemeni civilians, and – on all the available evidence – breaching international law by using starvation as a weapon of war."
Human rights campaigners are planning to stage a protest outside Downing Street as Prince Salman arrives today. But to counter the bad publicity, trucks with positive messages about the Saudi leader were driven around London.
They showed his image and promoted the hashtag #WelcomeSaudiCrownPrince, while digital billboards on the M4 from Heathrow bore the message – "He is bringing change to Saudi Arabia".
In an ironic twist, an advert with the message "He is empowering Saudi Arabian women", even appeared on The Guardian's website next to Ms Thornberry's article.
While it later appeared to be removed, a similar half page advert also appeared in the print edition, as they did in The Times, The Telegraph, Financial Times and The Evening Standard.
Green Leader Caroline Lucas said on Twitter: "Can't get over how bizarre it is to have these trucks driving around London welcoming a leader of a regime which tortures its own citizens and commits war crimes.
"Shame on the companies running these adverts – you should never have accepted them."
Prince Salman has been the driving force behind a Saudi Arabian modernisation programme, Vision 2030, but the reforms have been dismissed as a "mirage" by campaigners.
He will be received at Buckingham Palace at the start of a trip, and will have lunch with the Queen before dinner with the Prince of Wales and the Duke of Cambridge.
The Crown Prince has also been granted rare access to a briefing on foreign policy issues, including Yemen, by national security officials.
On Thursday he will head to Chequers for talks and a private dinner with the PM that will focus on foreign policy issues, including Yemen and Iran. On Friday, he will meet Defence Secretary Gavin Williamson for talks.
It comes as the London Stock Exchange also vies for the Saudi Aramco oil company to be listed in the capital, in what has been described as the biggest flotation in history.
The PM's spokesman said she would "make clear that we urgently need to see progress on the political track, which is ultimately the only way to end the conflict and humanitarian suffering in Yemen."
While Ms May would "acknowledge the steps" taken recently by Saudi Arabia to address the crisis, she would also "stress the importance of full and unfettered humanitarian and commercial access" through ports previously hit by blockades.
He added: "She will also reiterate how seriously we take allegations of violations against international humanitarian law and emphasise the need to ensure that these are investigated swiftly and thoroughly."
But Amnesty International said reforms in Saudi Arabia were "largely a mirage", with "peaceful critics" of the government thrown in jail and women reliant on permission from men if they want to travel, be educated or get a job.
UK director Kate Allen said: "We'd like to see Theresa May finally showing some backbone in the UK's relationship with Saudi Arabia.
"Ms May and her ministers should challenge the Saudi authorities over their atrocious human rights record, not swallow the unconvincing spin from Riyadh."
Source: Website