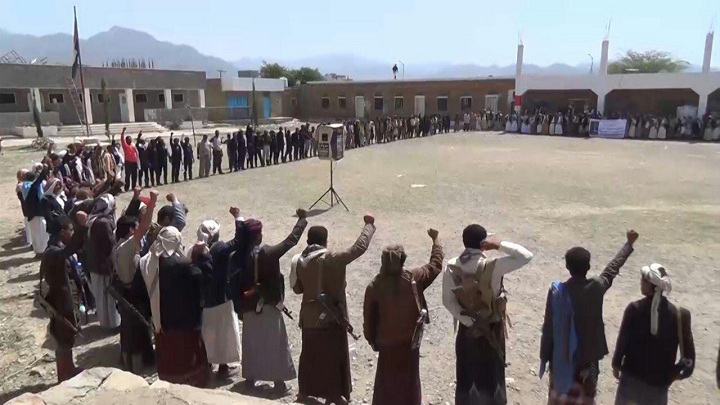 Yemenis Demonstrate in Solidarity of the Missile Force, Condemn Saudi Crimes
YemenExtra
M.A.
A demonstration held by the districts of Biden and Thi-Sifal, Ibb province, in solidarity with the rocket force and to condemn the crimes committed by the Saudi-led collation, in addition to the assassination of president Saleh al-Samad.
In the district of Biden, participants stressed that assassinating President Saleh al-Samad inaugurates a new stage to confront the coalition, pointing out that the war now, after killing al-Samad, will only become harsher. They hence pledged that the missile force will make it rain on the kingdom.
The participants condemned the war crimes committed by the Saudi-led coalition in Yemen, especially the most recent ones, which targeted the office of the presidency and Jadr area, capital Sana's, along with Hodeidah and Saada.
Moreover, district of Al-Sifal in Ibb province announced its full support for the missile force against the Saudi kingdom, along with what al-Samad stated that the fourth year is "a year of ballistic missiles against the Kingdom and and United Arab Emirates."