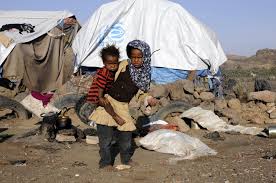 UN orgs accused for IDPs catastrophic situation in Yemen's Hodeidah
YemenExtra
Director of the National Authority for Management and Coordination of Humanitarian Affairs, Jaber al-Razehi, on Sunday, accused the UN organizations of the catastrophic situation of internally displaced people (IDPs) in Hodeidah coastal province.
Al-Razehi called on the UN and international organizations to start taking immediate actions toward the rising numbers of IDPs in the province.
There has been an escalation with the military operations western the aforesaid province, making the humanitarian situation to worsen in a number of areas in the province, in addition to an increase in the number of displaced civilians, who are in the need of urgent humanitarian assistance, al-Razehi said.